Our weekly recap of the San Luis Valley is part of the Colorado Preps weekly series and is presented by Stone's Farm Supply and Alamosa State Farm Agent Torben Walters.  Notes this week cover boys and girls basketball along with wrestling.
Boys Basketball
The win of the week for the San Luis Valley came from La Jara where the Centauri Falcons pulled off a HUGE win over the formerly top ranked St. Mary's Pirates at home on Saturday, remaining undefeated and shocking many in the state with their 70-64 victory. It came on the heels of a road trip to Montezuma Cortez where the Falcons earned a 53-42 win to start league action at 1-0. 
Only one game last week for the Alamosa Mean Moose, but it was a big one, seeing them get off to a 1-0 start in Intermountain League action with a 47-43 win over Pagosa Springs on the road Friday night. Sophomore Brant Jackson continues to be a key on offense for the Moose, aiding the upper class with just over 10 points a game and seniors Damian Orozco and Donovan Ramirez have been very efficient on offense as well.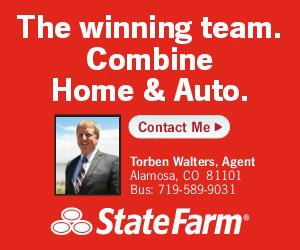 The Sanford Indians have bounced back well after starting the 2022 portion of the season with a pair of losses, the Indians were sixth in the most recent polls thanks to a convincing win over Buena Vista 55-33 and a victory over South Park on the heels of that to move to 6-3 on the year. Unfortunately, COVID protocols have put them on remote learning for the foreseeable future, so their rivalry game with Centauri this week has been postponed until February 8th, with other games in the air as well. 
In Monte Vista, only one game last week for the Pirates, as they traveled to Bayfield for a game with their most familiar opponent since 2007. In the 37th meeting between the two teams in the last 15 years, the Pirates were able to keep close, but dropped to 2-6 on the season after a 59-47 loss. The Pirates are struggling to finish inside, which while fixable, is hurting the success from the three point line being had by Colton Mellott and Memphis Garcia. They look for a bounce back week with Center and Sanford on the schedule. 
Speaking of the Center Vikings, at 5-5, they are hoping their 62-52 win over Dolores Huerta Prep to snap their three game losing streak gives them a boost into league action. Monte Vista, Trinidad, and Crested Butte will be a good way to keep momentum going from the weekend win, but their defensive consistency will need to improve, as they have allowed over 60 points in four of their five losses this year. 
The Del Norte Tigers are starting to receive a little bit of attention from voters themselves and have won their last four games including their only action last week against the Center Vikings, which saw them win 62-43 to move to 1-0 in league action. Ben Parra has been one of the best in the state in scoring and is a dynamic weapon for the Tigers, averaging over 22 a game, and the junior has 609 points in his career. He is getting help from senior Brennan Velasquez who is also averaging double digits to give defenses another face to worry about on the court. 
Dropping down to 1A, the only other undefeated team in the SLV has moved to fourth in the most recent rankings, and the Sierra Grande Panthers have shown no signs of slowing down. A 58-47 win over Trinidad in their only action last week saw sophomore Brian Ontiveros step up for Isiah Chairez, who didn't factor into the game, scoring 21 points in the win along with 15 from senior Lennie Valdez. If anything, the win shows the Panthers are much deeper than just the all around play from Chairez. 
After a 3-3 start, the Centennial Rams ran into a buzz saw last week, with three straight losses to Custer County, Questa (NM), and Springfield. The Rams allowed over 50 points in each game while their offense only eclipsed 45 points once. They look to get back on track in league action against Creede this week.
The Miners are entering the game with a 2-0 record in 1A Southern Peaks action, but this will be only their second game of the year after a two week layoff between their second league win over Moffat on January 7th. 
Girls Basketball
The Alamosa Mean Moose were able to earn a 38-32 win over Pagosa Springs to move back to 500 on the season and move to 1-0 in Intermountain League play. The Moose used a 16 point fourth quarter to come from behind for the win, as well as a defense that held the Pirates to only 13 total points in the second half. Defense has been big for the Moose all season, holding opponents to under 35 points in four of their five wins so far, while giving up over 45 points in four of their five losses. 
Down the road in La Jara, the Centauri Falcons are also sitting at 500 on the year after a loss to the St. Mary's Pirates at home on Saturday. The 55-43 loss to the Pirates is their second in three games to start the new year, and the schedule remains tough, with The Vanguard School and Pagosa Springs on the schedule for Friday and Saturday. Once through that, the Falcons have only three games the rest of January, with a pair against Montezuma Cortez and a home game against winless Bayfield, which should give them a chance to recoup from what has been a gauntlet of games to start 2022. 
Just like the Sanford boys, the Sanford girls were forced to postpone their contest with the Centauri Falcons this week due to COVID protocols and going onto remote learning. Hopefully that isn't going to take down what could be a fantastic game between the Indians and the Sangre de Cristo Thunderbirds on Friday, which pits 6-1 vs 8-1 teams against each other. The Indians are also looking forward to a Saturday game against the upstart Monte Vista Pirates who are having a resurgence on the other end of the valley. 
The Pirates of Monte Vista are 6-2 themselves, and showed off what their defensive mentality is against the Bayfield Wolverines last weekend to add to their convincing wins to start 2022. In two games, they have outscored opponents 111-35 to start the new year, and are looking forward to tests against Center and Sanford this week. 
The Sargent Farmer girls are also impressing others across the state in 2022, as they are sitting at 14th in the most recent polls and are 5-2 on the young year. The Farmers earned a 12 point win over Bayfield on Tuesday on the road, and are hoping to keep riding that momentum into games with Sierra Grande and Trinidad this weekend. Gabby Jones is getting good help form senior Mary Willis, who is averaging just under 10 points behind the 12 from Jones, and sophomore Bailey Asbell is also starting to come into her own as well, averaging nearly seven points a game. 
The Del Norte Tigers picked up a big win over Center to move to 1-0 in 2A Southern Peaks league play last week, but have a long way to go as they still sit at 2-6 on the season after no scores were recorded against Crested Butte and John Mall over the weekend. This week, it is Ignacio and South Park on the schedule, and a good chance for the Tigers to regain their mojo from seasons past. 
The loss to the Del Norte Tigers wasn't a crushing one for the Center Vikings, but the 38-24 defeat was at that time the third in a row for them. They did bounce back over the weekend with a 41-23 win over Dolores Huerta Prep, but four games this week, including Sangre de Cristo and league games with Monte Vista, Trinidad and Crested Butte mean they need results sooner rather than later if they are hoping for a postseason push. 
Sangre de Cristo will also be taking on Center and Sanford this week, as they get back into action for the first time since January 8th on Thursday against the Vikings. The T-birds have only allowed over 30 points four times this season, and their consistency on that side of the ball is coming from a group of juniors and seniors who have meshed well together on the court. Leaders in senior Ashley Mortensen and junior Peyton Metz have been big in a team whose roster boasts eight underclassmen this year. 
The Centennial Rams are right behind the Thunderbirds in terms of overall record, and at 7-3 are continuing to impress this season on the basketball court. While their boys struggles in their trio of games last week, the Rams picked up a win on the girls side against Custer County 34-33. While they did drop their games with Springfield and Questa (NM), neither loss looks bad with the two teams combining for a 12-8 record. A good test this week in Caprock Academy out of Grand Junction awaits the Rams as they won't return to league action where they are 2-0 until January 28th against Moffat. 
The Sierra Grande Panthers picked up an important win over Trinidad to move to 3-4 on the season after a convincing 21 point win over the Miners. Only two seniors are on the team for the Panthers, with most of the offensive contribution coming from junior Mariana Loya. With wins in their last two games, things may be starting to jell for a young team who will be tested with a game against the 5-2 Sargent Farmers this Thursday. 
Moffat is finally getting into action themselves this weekend when they host the Cotopaxi Pirates and Antonito Trojans on Friday and Saturday. At 3-3, the Cowboys are still a question as to how good they are going to be in league play, but more should be revealed as both the Pirates and Trojans have teams that will challenge the Cowboys in different facets of the game. 
Wrestling
The Mel Smith Invitational in Florence was a great chance for the San Luis Valley to show off what they have been building, and the results were not disappointing. 
What other way to start than with the team that topped the podium in the Centauri Falcons, who took the title over the runner up Alamosa Mean Moose by 30 points, scoring 171.5 to the Moose's 140. Also from the valley, Monte Vista found themselves with 47 team points and in 24th of the field of 30 teams. 
On the individual side of things, championships were found by 113 pound Alamosa junior Dempsey Gibbs (21-3), 152 pound Centauri senior Eyan Chavez (25-2) alongside senior teammate Zach Buhr (25-3) at 182. The Falcons also added a pair of runner up finishes from senior Mario Valdez (18-9) at 120 and sophomore Josh Polkowski (18-6) at 160.
The valley saw a slew of wrestlers competing for third and fourth, starting at 106 with Alamosa's freshman Dyson Woodward (18-6) taking fourth. The Mean Moose also saw junior Dario Valdez (11-3) take third at 120, senior Trevor Maestas (19-6) take fourth at 132, and junior Kyler Liddell (19-6) finish fourth at 145. Centauri's upper weights put junior Erik Mestas (20-5) onto the podium in fourth at 170 and down the valley in Monte Vista, the Pirates placed junior Damian Lopez (19-6) in fourth at 126. 
Rounding out the podium finishers for the valley were Monte Vista's junior 138 pound DeAngelo Archuleta (18-5) in fifth and Centauri's Byron Shawcroft (17-7) at 195 also placing fifth. 
Down the road from Florence in Pueblo, the Center Vikings and Del Norte Tigers made the trip for the Bulldog Invitational at Pueblo Centennial, with Center placing 14th and Del Norte in 18th. 
The Tigers had the lead individual finisher for the valley schools in 120 pound  senior Mallachi Gallegos who improved to 15-5 with a runner up finish. While he was the Tigers only wrestler to make the podium, the Vikings brought home a trio of medals, with sophomore Jesus Valadez (23-7) taking third at 182 and a pair of fifth place finishes from senior Manny Morales (5-10) at 132 and freshman Aaron Valadez (15-12) at 138. 
Sargent and La Veta found themselves in Custer County for action over the weekend, and the Farmers placed sixth as a team with 83 team points and a pair of champions in the small tournament. Sophomore Matthew Voss (9-7) took the title at 113 while sophomore Trenton Lovelace continued a stellar campaign with a round robin win at 220, improving to 19-0 on the season. At 132, Garrett Thompson (8-6) joined them on the podium as the sophomore took second. La Veta junior Tobin Parker(10-8)  took second in his round robin at 285 to help La Veta to an 8th place finish.