PUEBLO — Four years ago, Eaton football coach Zac Lemon asked a loaded freshman class what their goal was for the next four years.
The response was simple and unanimous — win four state titles.
The Reds missed out during their frosh campaign, but Eaton secured the next three state titles to send quarterback Martin Walker and the rest of the seniors out as state champions after a 21-10 victory over Delta in the Class 2A state title game.
"It's surreal, honestly," Walker said of the victory. "Coming in as an eighth grader, coach Lemon was talking football with us and I told him 'we want to win four state championships.' It's not four, but it's three and that's a pretty powerful statement coming in as an eighth grader. I knew we were going to have something special once we came in and being able to do it in front of these fans and my teammates means a lot."
After perhaps the biggest momentum swing of the game, Eaton locked in.
With the Reds leading 14-10 in the fourth quarter, a 37-yard field goal attempt from Zac Grabel was blocked and returned all the way to the opposing 31 by Delta. The Panthers plowed forward to face 3rd and 1. With two chances to move the sticks, Eaton's defense held firm, forcing a turnover on downs.
The ensuing drive took more than eight minutes off the clock, essentially iced the game and ended on a 6-yard touchdown run by Morgan Tribbett.
"We were not real happy with the way that kick transpired," Lemon said. "But the effort that our guys made — to run the guy down and make a tackle and not let him return it, plus getting the stop on fourth down — that was the game. That could've been a big swing if they get that first down and punch it in."
The blocked kick was one of only a few bumps for an otherwise smooth Eaton attack.
The Reds' opening drive ended with a punt, but they bounced back in a big way to secure the lead. They stalled Delta's opening offensive drive shortly after they crossed midfield, and a 54-yard field goal attempt from Panthers kicker Jose Olivas was short and wide right.
The Reds' next drive ended with a controversial call when Eaton quarterback Walker Martin threw a 42-yard bomb into the wind that initially appeared to be pulled down by Austin Martinez and was ruled a touchdown on the field. A Delta defensive back popped up the ball, however and a replay on the jumbotron showed an apparent interception. With no video review allowed, the call stood and the Reds took a 7-0 lead with 4:16 left in the first quarter.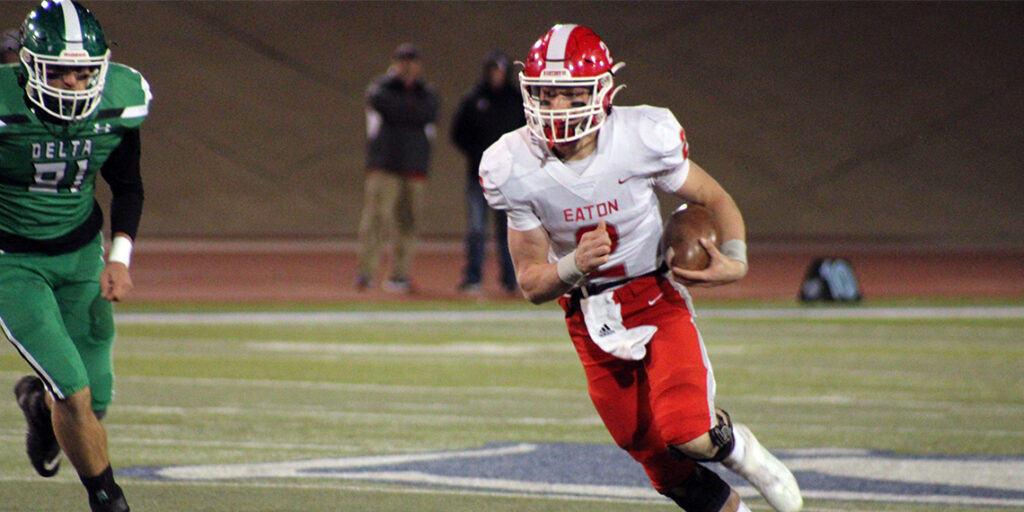 A few moments later, Martinez had a no-doubt big play by picking off a long pass from Delta quarterback Ty Reed. Martin pounced on the mistake with a series of quarterback keepers that was capped by a 19-yard touchdown run up the left side for the University of Arkansas baseball commit early in the second quarter.
Martin — who finished with seven carries and 78 yards on the ground — saw his run usage specifically increase for the state title game.
"They're a tough team. They hit hard and the come at you fast," Martin said of the Delta defense. "My mindset coming into this game was 'if it's there, take it.' I got an opportunity to do so. I was fortunate to help our team get a third (state title). I'm excited for what we've done these past four years and I'm feeling pretty blessed."
Delta's next drive took more than eight minutes off the clock and ended when Esai Carrillo walked in for a 1-yard score. Eaton's ensuing drive resulted in a punt, with a 59-yard blast from Zac Grable pinning Delta at the 2 and effectively ending the half.
Delta cut into Eaton's lead with a 33-yard field goal by Olivas with 5:44 left in the third quarter. The Reds' next drive brought up the blocked field goal, but the Reds got the stop and never looked back.
Alongside his big rushing day, Martin completed 4 of 7 passes for 67 yards and one score. Tribbett amassed 30 carries for 131 yards and one score.
Delta's offense was powered by its rushing attack, with Carrillo taking 17 carries for 79 yards and a touchdown. Konner Workman added 67 yards on 13 carries.
Panthers coach Ben Johnson said the early big plays were setbacks, but he was proud of the way his team climbed back into the game.
"We didn't want to give up any explosive plays and we gave up that explosive play on their second drive," Johnson said. "We talked about it all week, not wanting to compound on those things with something like a turnover. Then we had a quick turnover. They went up 14-0, but like our kids have all year, they battled back. We made it 14-7 and then 14-10. I really thought we changed momentum with the blocked field goal. On my behalf, I told the team we should've took a shot to the end zone."
For Eaton, the victory sends over a storied senior class.
"There were high expectations with this group," Lemon said. "And they really came through."