Our look at the upcoming season continues with a breakdown of the top clubs in Class 3A boys basketball as voted on by statewide coaches.  We look in-depth at the top 15 clubs and other top players outside that group.
#1 Lutheran:  The first six and nine of the top 10 scorers from last year's could return for the Lions as they look to take the next step and land a 3A state championship.  They reached the state quarterfinals last season but did not play well in a 69-40 loss to unbeaten Resurrection Christian.  Should all the players get back on the court again this year, the Lions become heavy favorites to land the crown.  Most of the excitement is centered around sophomore Baye Fall.  The near seven-footer jumped on the prep scene with 19 points, 11 rebounds and nearly four blocks per game during his freshman season.  He's also had one more off-season of club basketball across the country to develop more skills and is the leading candidate for POY across the division.  But there is much more talent on the roster than Fall.  Mamado Sou totaled 11.7 points and 5.8 rebounds and also presents good size along the front.  Sam Hoops (11.3) is a third double figure scorer returning and chipped in 25 three-pointers.  He was third in that category behind Aaron Morgan (34) and Tommy Apodaca (33).  Those two also averaged over 14 points per game together.  Other players to watch include Josh Greiving (4.8), Noah Greenwood (3.5), Niklas Skirmants (2.7) and Macy Barnhart (2.4).  Schedule wise, the important league clashes with Faith Christian (February 3rd) and Manual (March 1st) are nearly a month apart.  In between, the Lions get a chance to line up against 5A Legend (February 26th).
#2 Faith Christian:  The Eagles were one of four teams still standing when COVID cancelled the final two days of the basketball season.  They had outlasted Alamosa 55-40 in the quarterfinals and were prepping for a rematch with Sterling in the state semifinals.  Sterling had won the regular season contest by just eight points (40-32) so another good battle was expected.  Faith lost leading scorer and rebounder Caleb Ruter and fellow senior Isaiah Kroll (9.3) from the club but welcome back four others who averaged between four and 11 points a game.  Seniors Caleb Clark and Graham Kroll top the list.  Clark was second in scoring (11.0) to go along with four rebound and three assists last season while Kroll was fourth on the scoresheet (5.2) while adding three rebounds and four assists.  Two other seniors may boost numbers this year; Garrett Everitt (5.1) and Jon Randall (4.5) combined for almost ten points a game a year ago.  The Eagles first three games may tell us if the Eagles are a definite state championship threat as University and St Mary's are scheduled in week one followed by the possible Metro league title game against #1 Lutheran on February 3rd.  Also on the schedule are dates with Manual and Kent Denver inside the conference before closing with Sterling on March 6th.
#3 Sterling:  The Tigers of late have always been a factor in the state championship picture.  They landed the 3A title in 2017 by beating Faith Christian and then reached the state semifinals each of the past three seasons.  In 2017-18, the Tigers won 26 games but lost to Lutheran in the semifinals and then in 2018-19, won another 25 games but came up short to Manual in the semis.  Last year, they topped Vanguard 53-37 to reach another Final Four but their date with Faith Christian was wiped out with the rest of the tournament.  Three of the top four scorers a year ago were seniors Axel Henry (16.8), Brock Shalla (16.2) and Dylan Anderson (10.4) and those three combined for a whopping 163 treys, but there is plenty of returning talent to make another run.  Junior Jackson Keil dropped in 12 points a game last year and also handed out three assists.  He was also fourth on the team with 46 three-pointers.  Senior Tucker Myers collected five points and six rebounds a game last year while sophomores Ben Browning (3.1) and Ryder McConnell (3.0) saw significant varsity time as first year players.  Schedule wise, the Tigers will have to battle through the likes of Resurrection Christian, Eaton and University to win the Patriot championship.  They actually face Resurrection Christian twice including a non-conference season opener on January 30th.  The league matchup is on February 26th.  Non-conference games of note include Manual on February 6th and Faith Christian on March 6th.
#4 Manitou Springs:  The Mustangs return four of their top five scorers for a club that won 19 games and reached the Sweet Sixteen.  The season ended there with a loss to Centauri but the experience could push the Mustangs into the Great 8 and possibly farther this season.  Joah Armour topped the team with 14 points per game last season and he returns for one final push in his senior season.  He's joined by classmates Isaiah Thomas (12.2) and Lars Marquardt (7.8) who were second and fourth on the scoring list a year ago.  Junior Caleb Allen (6.0) is a fourth returnee who netted at at least six points a contest.  Those returnees will also continue the trend of three-point shooting from 2019-20 where the Mustangs dropped in 232 overall including 39 from Thomas, 36 from Armour and 32 from Allen.  The schedule, like most other teams, will keep the Mustangs close to home.  They open with games against 2A locals Peyton and Rye followed by a key league game against Vanguard on February 5th.  The battles with St Mary's (Feb 25th) and Colorado Springs Christian (March 1st) are much later in the campaign.
#5 Resurrection Christian:  After taking out Lutheran 69-40 in commanding fashion in the state quarterfinals, the Lions were the favorite to land the 3A state championship which would have been the first in school history.  But instead, they had to "settle" for a perfect season (25-0) where they outscored opponents by 858 points.  Losses though were heavy as 10 of the top 11 scorers either graduated or transferred after last season.  New coach Ryan Yoder steps in to succeed Bruce Dick and he will likely have some new faces to mix in with returnees Zack Cook (5.1), Will Schrotenboer (0.7) and Cade Bothwell (0.5).  Those three combined for 145 points in varsity games last year.  The early schedule won't deal them any breaks as they face Highland and Sterling on back-to-back nights in week one.  Highland is up from 2A where they earned final four berths each of the last two seasons.  They also have league games with Eaton and University and the rematch with Sterling later in the year.
#6 Manual:  The Thunderbolts captured 18 wins in 2019-20 with the last coming against Centauri (56-53) in the state quarterfinals.  That victory set up a showdown with unbeaten and top ranked Resurrection Christian; a game that did not happen as all post-season tournaments were shutdown last March.  Despite losing Jaden Stoffell and his 25 points per game average to graduation, the Thunderbolts expect again to be in the mix thanks to return of Jordan Reed (14.9) and Abel Maes (8.9) to the lineup.  Both should post even higher numbers in 2021 as they will be called on to replace some of the scoring left with Stoffel's absence.  Gordon Bragg (4.9) is another who could get more shots this season.  He also grabbed nearly four rebounds a game a year ago.  The 'Bolts open with Bruce Randolph, Jefferson Academy and Stargate so there's a good chance they'll be 3-0 going into back-to-back games against Sterling (Feb 6th) and Faith Christian (Feb 9th).  Lutheran is up on March 1st and should the 'Bolts get by Faith Christian, that game will play a major role in determining the Metro crown.
#7 St Mary's:  Maybe a bit surprised not to see the Pirates a bit higher on preseason balloting as they're coming off a 19-win season and return the high scoring tandem of Sam Howery (20.5) and Luke Stockelman (16.7).  The duo also collected 12 rebounds, 10 assists and nearly seven steals last season and will be one of the top one-two punches in any class.  Also returning are four other players who supported the offense by averaging at least four points a night.  That list includes juniors Cyrus Hernandez (6.5) and Andon Mindrup (6.0) along with senior John Klein (5.5) and sophomore Corbin Garver (4.2).  The veteran group gets a chance to open some eyes early as they host #2 Faith Christian in the season opener January 28th.  Later rivalry matchups include Colorado Springs Christian (Feb 13th), Manitou Springs (Feb 25th) and Vanguard (March 1st).  Longer road trips put them to Salida and Buena Vista three nights apart and to La Junta for Tri Peaks conference action.
#8 Centauri:  The Falcons featured a good mix of experience and youth a year ago so while five crucial seniors graduated from the state quarterfinal team, five other players with plenty of varsity action should get back on the court.  That depth helped guide the Falcons to 21 wins before a narrow loss to Manual (56-53) ended their state championship push.  Because minutes were shared by so many players, the Falcons had just one double figure scorer in Baron Holman (12.9) but he returns for his junior season.  He also led the team in steals (4.7) and three-pointers (24) plus he ended up second in rebounds (5.8).  Two other returnees of note are Trey Crowther (8.3) and Mason Claunch (7.5).  Claunch also led the Falcons in rebounds (8.1) and assists (5.2).  Also expect the likes of McKay Russell (3.2) and Peyton Polzin (2.9) to step up more in 2021.  For the schedule, Centauri has 10 league games with home and away pairings against Pagosa Springs, Alamosa, Montezuma Cortez and Bayfield.  Non-conference games feature Durango, Delta, Rye and Gunnison so they will be tested often.
#9 Eaton:  A loss to Manual in the Sweet 16 kept the Reds away from the 3A state tournament last year so a nice group of returning seniors has one more chance to crack the final eight.  The three seniors were the top three scorers as juniors and all averaged in double figures.  Ryan Ure led the way with 14.2 points and also grabbed 12.7 rebounds to average a double-double for the season.  He had 14 double-double games overall with season highs of 31 points vs Frontier Academy and 22 rebounds vs Basalt.  Scott Grable (13.0) and Gage Butler (10.8) were 2-3 in scoring last season.  They also combined for 82 three-pointers including a club-best 50 from Grable.  A fourth senior, Cole Schumacher, will see more minutes this season and the Reds could also get production from sophomores Zac Grable and Walker Martin.  The Reds open with local rival Highland on January 27th.  The two schools are separated by just four miles and played a tremendous double overtime game a year ago.  They close week one against 4A D'Evelyn and then in week two challenges Resurrection Christian in a key early Patriot game.  Home dates with Sterling and University are back-to-back in late February.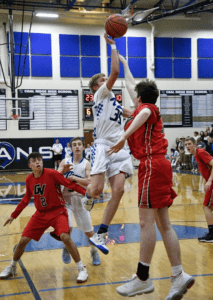 #10 Coal Ridge:  The Titans finished second to Gunnison in the Western Slope chase last year and based on preseason polling the two clubs could battle for the crown once again.  Overall, the Titans won 14 games but could not get out of the first round of the state tournament as they fell to DSST-Green Valley 59-51 in the opening game.  In that loss, Austin Gerber led the way with 21 points.  And even though he's graduated, Gerber (18.8) was the only senior on last year's squad.  This year will be different as Coach Paul Harvey can lean on seven seniors that played prominent roles a year ago.  Hank DiMarco was second in scoring (9.3) and also led the Titans with six rebounds a game.  Another top returnee is Andrew Herrera (8.6) who netted 30 treys as a junior and also chipped in three rebounds, three assists and two steals per game.  Those two are joined by Daniel Sanchez (6.5), Moises Contreras (5.5), Karsen DuBois (4.5), Irvin Ortega (3.8) and Jack Price (.32) as seniors who want to finish careers with a trip to the state tournament.  The league pairing against Gunnison is set for February 25th and they also have a tough conference test at Grand Valley on February 11th.  Non-league battles will be against bigger schools Steamboat Springs, Rifle, Glenwood Springs and Grand Junction Central along with DSST-Byers.
NEXT FIVE
#11 University gets back Tayt Chacon (20.2) and Alex Martinez (10.5) from a team that won 17 games and missed the Great 8 by just one game.  With games against Faith Christian, Lutheran and Sterling over the first two weeks, the Bulldogs have a brutal early season slate but wins can quickly push them up the Top 10 and seed ladder.  They will need to find more scoring to offset the graduation loss of Andre Chacon (13.1) and Jaden Humphrey (11.5).  #12 Alamosa is another team that missed the state tournament by one game as they fell to Faith Christian (55-40) in the Sweet 16.  That result finished off a 18-6 campaign.  Three of the top four scorers graduated last Spring which leaves much of the scoring load to Isaiah Harrell (7.0), Donovan Ramirez (4.4), Dylan Mendoza (3.7) and Kane Absmeier (2.5).  All four were part of the eight-man rotation a year ago.  #13 Gunnison will have a difficult time topping last season where they finished 21-3 and earned the Western Slope championship.  It was a quick turnaround as just two years prior the Cowboys managed just four wins.  20-point per game scorer Hunter Wood finished up eligibility last Spring but Braden Wood (14.3) and Aidan Hulbert (11.2) return to pace the offense.  Hulbert also averaged a team high 9.2 rebounds.  #14 DSST-Byers enters just their third year of varsity basketball and is coming off a 21-3 record a year ago.  It ended with a 46-41 loss to Alamosa in the regional finals.  There is some rebuilding to do as Julian Buerk (7.5) is the only returnee who averaged more than three points a game last year.  Kyrie Thomas (22.6) and Elijah Thatch (16.7) combined for nearly 40 points a game last season but both have graduated.  #15 Vanguard has won at least 21 games for three straight years and reached the state tournament twice in that span.  Due to the limited schedule, 20 wins is not possible this year and many new faces will have to step up for the Coursers to get back into the Great 8 bracket.  Dominique Clifford, with 25 points and 13 rebounds, graduated and is now playing for CU.  Joseph Padilla (14.4) was second in scoring last season but also graduated.  Ryan Lair-Douchinsky (10.1) is the top returnee and was third on the scoring list last year.  Ryan Lair also dropped in 53 three-pointers.
OTHER TOP PLAYERS RETURNING
| | | |
| --- | --- | --- |
| Joshua Martinez-Reyes | Arrupe Jesuit | 8.1 rebs |
| Isiah Johnson | Atlas Prep | 10.3 rebs |
| Melvin Taylor | Bruce Randolph | 18.4 points / 13.9 rebs |
| Caleb Stockton | CS Christian | 18.0 points / 79 treys |
| Uziel Tomita | DSST-College View | 18.2 points |
| Jaylen Johnson | DSST-Green Valley | 3.7 assists |
| Nate Gravagno | Englewood | 16.3 points |
| Ethan Hill | Estes Park | 19.3 points / 8.6 rebs |
| Kobe Roedel | Fort Lupton | 3.8 assists |
| Emilio Garcia | Grand Valley | 57 treys |
| Jalen Higgs | James Irwin | 16.0 points |
| Thomas Garcia | La Junta | 58 treys |
| Dylan Windorski | Lake County | 16.7 points / 11.3 rebs |
| Ryan Schmitt | Machebeuf | 8.3 rebs |
| Will Yebio | Machebeuf | 53 treys |
| Leif Gislason | Salida | 8.7 rebs |
| Myles Godina | Salida | 16.8 points |
| Ethan Maze | William Smith | 18.8 points / 10.5 rebs |