It's semifinal time in the six-man playoffs, and all of the top four seeds are still alive. There have been no upsets through the first two rounds, but that doesn't mean its been a total breeze for the remaining squads. The winners of this weekend's games will head to the Thunderbowl on the campus of CSU-Pueblo next Friday to determine the classification's champion. Regardless of who wins this weekend, the title game will be a rematch of the regular season. Cheyenne Wells beat Stratton and Granada, while Idalia lost to both of those squads.
FEATURE PHOTO PROVIDED BY BOB SCHECTER
#1 CHEYENNE WELLS (11-0) VS #4 IDALIA (9-2) – SATURDAY 1PM
The numbers for Cheyenne Wells this season have bordered on being utterly ridiculous. After last week's 76-32 win over Prairie, the Tigers have now outscored their opponents by 520 points. To put that in perspective, only five other teams have even scored as many as 520 points, with two of them making the semifinals.
Cheyenne Wells saw Prairie score early in the second quarter last week to tie the game at 14-all. By the half, the Tigers led 62-20. They scored three times in the final four minutes of the half, including twice in the last 61 seconds. Cade Mitchek finished with 179 yards and four touchdowns on the ground, to go with two catches for 55 yards and another TD as a receiver. Rogelio Rangel added two rushing scores and one more on a reception, as Blake Gilmore threw for 121 yards and two touchdowns.
Ty Scheler led the defense with 11 tackles, tied for game-high honors. Evan Worley and Dillon Ball each added six tackles, with Ball having a sack in his tally. Zach Dickey recorded five stops in a reserve role. Gilmore and Mitchek each came up with an interception, the only two takeaways for the Tiger defense. Mitchek scored twice on special teams, one on a 72-yard kick return, and the other on a 51-yard punt return in the closing seconds of the first half. Jesse Harlow was a solid eight of 10 on his PAT kicks on the very blustery afternoon.
Idalia showed off its big play abilities on Friday night, when the Wolves bounced two-time champion Fleming 64-28. Eduardo Estrada took the opening kick-off back 70 yards for a quick TD, and Yahir Enriquez scored on each of the first two offensive snaps as the Wolves built a 29-0 first quarter lead. Fleming got the only points of the second, but still trailed 29-6. Idalia would add two more scores to their lead in the third, and then matched the Wildcats in the fourth, which saw both teams strike for 22 points.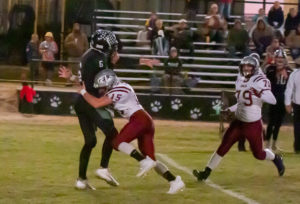 Enriquez finished the night with 233 yards and six touchdowns on the ground, and Kye Towns added 142 yards with a TD. As a group, the Wolves ran for 424 yards. Tarek Glanz supplied a passing score to Logan Breyer, while Enriquez and Estrada each completed a PAT pass.
On the defensive side of the ball, Estrada ran around like his hair was on fire, recording a career-high 26 tackles. Of those, 21 were solo. Breyer registered 13 tackles, including a sack, and Koy Smith added 11 tackles and an interception. Enriquez had two sacks in his tally of nine tackles, and Marek Cody also got to the opposing QB, picking up his second sack of the season. His first also came against Fleming, in Idalia's 32-24 regular season victory.
This is the first postseason meeting between the two sides, and just the fifth overall. Cheyenne Wells has won the previous four, including a 70-12 decision two years ago. The Tigers are looking to make only their second appearance in a six-man title game, as they lost the championship contest to Flagler/Hi-Plains in 2016. For the Wolves, they have eight championships in 11 appearances, but the most recent of either was in 2010, when they defeated Fleming.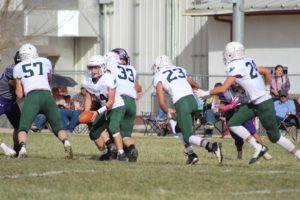 #2 STRATTON (10-1) VS #3 GRANADA (9-1) – SATURDAY 1PM
Of the teams that played more than four games this season, none have allowed fewer points than Stratton. The Eagles have only surrendered 129 points, and they recorded their fifth shutout of the campaign, 62-0, against Cheraw last week. Their last six opponents have scored a total of eight points.
Charlie Clapper had another big day on the ground in the quarterfinal win at Cheraw, going for 178 and four touchdowns on just 11 carries. Three of his four scores were more than 40 yards in length. Alex Cruz added 90 yards and a TD, while Stockton Fye registered 56 yards and two touchdowns with the mercy clock rolling in the second half. Charlie Tagtmeyer five of six passes for 72 yards and a TD, that was hauled in by Cyler Notter. Cruz caught the other four passes, tallying 54 yards on them.
Riggin Williams had a team-high eight tackles, with Cruz adding six. Two of those for Cruz were sacks. Notter and Will Witzel each had half of a sack. For Notter, it was part of his five tackle performance. Braden Wedel converted five of six PAT kicks, and also registered touchbacks on three of his six kick-offs.
There was just one close game in the quarterfinals and it involved Granada. The Bobcats found themselves locked in a wild affair with Sierra Grande, and after giving up their nine-point halftime advantage (28-19), they were trailing 44-40 inside of a minute to play in the contest. Dominic Coleman connected with Brandon Gonzales for the go-ahead TD with just seven seconds remaining, and the defense made one final stop on the last play of the game to secure the victory.
With the Panthers focused on stopping the pass, Granada turned to its ground game, which produced in a big way. Jonus Guevara ran for 239 of the Bobcats' 386 yards, and the duo of Maddox Coleman and John Hainer each rushed for two scores. Dominic Coleman still had a solid outing throwing the ball, as he completed 11 of 17 attempts for 117 yards and three touchdowns. Both of Gonzales' caught went for touchdowns, and Maddox Coleman was on the receiving end of the other one.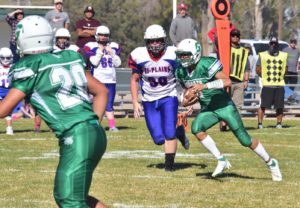 The Coleman brothers combined for 24 tackles, with Dominic recording a game-high 13. Granada had five players each recover a fumble. Guevara, D. Coleman, J. Hainer, Oryan Hainer, and Bailey Hernandez were all credited with those recoveries.
There is a lot of playoff history between Stratton and Granada, but it all came in eight-man. They met seven times in the postseason between 1990 and 2006, with Stratton winning five times. The Eagles went 3-1 in championship games against Granada, but the Bobcats won the 2006 contest 47-46 in triple overtime. The programs have not met since 2011.
For Stratton, those three title wins over the Bobcats represent half of their total (not including two as part of the co-op with Liberty). Stratton/Liberty played in the last four title games. The win in 2006 is Granada's most recent championship of three in school history.  They also captured crowns in 1988 and 1979 but they're seeking their first championship game in the six-man division.