The eight-man football community was rocked by the news of an automobile accident that claimed the lives of four teenage students from Wiley, and left another youngster hospitalized with serious injuries on Wednesday night. We join others from around the state in sending thoughts and prayers to all impacted by this horrible tragedy.
On the field, this week's slate is highlighted by three match-ups of ranked teams, as well as several others that will have major RPI points on the line. The action gets started on Thursday with a key non-league game between Vail Christian and Lyons.
Vail Christian (1-0) handled Caliche (0-2) last week, 54-26, but the Saints allowed more than 300 rushing yards in the victory. With Northwest league play getting started next week, picking up another non-league win would be big for the Saints. A win at Lyons would also match last season's victory total for Vail Christian, who went 2-2 in the shortened campaign.
Lyons (2-0) has outscored its opponents 108-55 through two games, with the offense being sparked by Finn Oetting and Maregu Sullivan. Oetting has rushed for 255 yards and four touchdowns, while Sullivan has added 188 yards and six scores on the ground. Oetting has also scored on a punt return, and Sullivan has a kick return for a score. On the defensive side of the ball, Oetting and Keenan Young both have a fumble recovery to their credit, while Wyatt Bashor has the team's lone interception.
Top-ranked Sanford (2-0) visits #10 Simla (2-0) to highlight the Friday schedule. Kelton Gartrell has lived up to the preseason hype for Sanford, scoring touchdowns just about every conceivable way. He helped the Indians pull away from Dayspring Christian (1-1) last week with a long TD run, followed by a pick-six. Sanford ended up winning 60-36.
The ground game has been the focal point for Simla, with four different players having gained more than 100 yards so far. Brayden Glover leads the way with 198 yards. He went for 110 yards and four touchdowns in last week's 46-14 win over Elbert. TJ Eurich (178 yards), Jonathan Zimmerman (116 yards), and Caston Cox (103 yards) are the others in the group, and each has scored two touchdowns. Cox has also thrown for 171 yards and two scores. Glover and Ethen Gonzalez each average 11 tackles a game.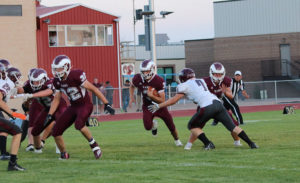 Third-ranked Mancos (2-0) and #4 Merino (1-0) have developed a nice little rivalry in recent years, with one of the meetings taking place in the postseason. They meet on Saturday in Fairplay (South Park). Mancos is coming off a 61-0 drubbing of Dolores last week, and the Bluejays have outscored their opponents 118-8 through two weeks. Kail Wayman ran for 100 yards and a TD on four carries last week, and the sophomore also hauled in a 45-yard TD pass from Ayden Matthews. Matthews rushed for two scores and threw for two. Chase Moore scored four times, twice on punt returns, once on a fumble recovery, and once on the ground.
Merino has been off since defeating Pikes Peak Christian (0-1) 26-0 in week one. The Rams led 20-0 after one quarter and held the Eagles to just 115 yards of offense in the game. Merino's defense came up with a pair of interceptions and did not allow a play of more than 12 yards in the outing.
Mancos owns two regular season wins over the Rams, including a 48-34 victory two years ago. Merino won the 2018 postseason match-up, 40-0.
Later on Saturday, ninth-ranked Akron (2-0) will host #8 Fowler (1-0) in non-league action. Akron outlasted Holly (1-1) in overtime last week. The Rams got 208 passing yards from Ryan McCaffrey, aided by a 79-yard TD to Ivan Losa. Jackson Filla added two rushing touchdowns. Defensively, Xavier Livesay registered three sacks.
Fowler had an extra week to prepare for the Rams, as the Grizzlies had a bye following their 54-6 win over Sargent in week one. They used a 30-point second quarter to have the mercy clock rolling before halftime. Fowler's defense held the Farmers to zero passing yards in that contest.
Prior to last year's shortened season, these two programs had met every year since 2012. Akron won the first five meetings, but Fowler has won the last three.
Fifth-ranked Haxtun (2-0) was slated to host Wiley (0-0) on Friday, but with Wednesday's tragic accident, that game has been cancelled.  Instead, Haxtun will lineup against neighboring Fleming in a quickly scheduled game.  The Wildcats are the two-time defending state champions in six man football.
The Fightin' Bulldog squad has outscored its opponents 126-14 to date. In last week's 60-14 win over West Grand (0-2), Michael Gerk (135 yards, 3 TD) and Isaac Andersen (122 yards, 2 TD) combined for 257 yards and five touchdowns on the ground. Kyle Fryrear aided the team with 123 kick return yards, and Ozzy Coss had two sacks on defense.
Dayspring Christian will be looking to bounce back after dropping its meeting with Sanford last week. The seventh-ranked Eagles are home on Saturday to face Byers (0-2). Garrett Krehbiel has assumed the QB role and has thrown for 214 yards with four touchdowns, while also running for team-high totals of 215 yards and six scores. Austin Cecil has recorded a team-leading 24 tackles in two games.
Not much has gone right for Byers so far this season, as the Bulldogs have been outscored 84-30. That includes last week's 34-8 loss at home on their new field. They held an 8-6 lead after one quarter in that loss, but Calhan scored 14 points in the second to get a cushion, and then put the game on ice with 14 more in the fourth.
Second-ranked Sedgwick County (1-1) is on a bye after last week's 46-0 win over Hoehne. Dove Creek (2-0), ranked sixth, is also on a bye. The Bulldogs beat Rangely 54-6 last week.
EIGHT MAN – TOP 10 SCHEDULE
#1 Sanford at #10 Simla
#2 Sedgwick County – OPEN
#3 Mancos vs #4 Merino (SAT)
#5 Haxtun vs #3 Fleming (6man) (SAT)
#6 Dove Creek vs Dolores
#7 Dayspring Christian vs Byers (SAT)
#8 Fowler at #9 Akron (SAT)