With just three weeks of regular season play remaining, as many as 10 games on the schedule this week have major implications, both in league standings and in the RPI. The action gets started on Thursday night, and carries all the way through Saturday afternoon.
PHOTO PROVIDED BY FOWLER HIGH SCHOOL ANNUAL STAFF
Merino (2-4, 12th RPI) hosts Caliche (2-4, 16th RPI) in Plains play on Thursday, with both teams currently holding postseason spots. However, only the winner could qualify, depending on how things shake out with the other divisions over the final few weeks. Merino is 0-3 in the league after last week's 46-34 loss to #7 Akron (4-2, 5th RPI). They allowed more than 500 yards of offense in that loss, including 330 on the ground. Akron's Ryan McCaffrey threw for 177 yards and four scores, and ran for another 135 and a touchdown in handing Merino its second straight loss, and fourth in five weeks.
Caliche dug an early 16-0 hole in their contest against #6 Dayspring Christian (5-2, 7th RPI) two weeks ago and fell by a 48-14 count. That loss dropped the Buffs to 1-2 in the division. The Buffs allowed 485 yards of offense to the Eagles, 389 on the ground. They were off last week. Caliche has not had much luck against the Rams lately, having dropped two straight and five of the last six. In those five losses, the Buffs were held to 26 total points. During the MaxPreps era, Merino owns a 14-5 record against their rivals. 
Thursday will also have an important contest inside the Central division, where Front Range Christian (5-2, 23rd RPI) visits Lyons (3-3, 25th RPI). The teams are tied for second in the division, behind Byers (4-3, 15th RPI) who has locked up the title. Both teams have a lot of work to do to get into the postseason, starting with winning out and then getting some help.
Front Range Christian bounced back from its 60-58 quadruple OT loss to Byers two weeks ago, getting back on track with a 46-6 win over Justice (1-4, 39th RPI) last week. Ethan Whatmore completed 18 of 24 passes for 354 yards and five touchdowns in that win. Nolan Potts and Josef Nussbaumer each had seven catches for more than 150 yards, and both scored twice. Potts added another score on a 90-yard pick-six.
Lyons stayed with Byers early last week, but the Bulldogs eventually pulled away for a 36-14 victory. Finn Oetting was one of the bright spots for the Lions in that defeat, as the sophomore ran for 110 yards and a touchdown. He also shined on defense with 10 tackles (eight solo) and special teams, showing off a strong leg on kick-offs and a 60-yard punt. Lyons owns a 6-4 mark in games with Front Range Christian, having dropped the final four games in the series. However, they have not faced the Falcons since 2017.
Leading off Friday's slate of games is second-ranked Mancos (4-0, 1st RPI) visiting #4 Sanford (5-1, 2nd RPI) in the Mountain division. Mancos has not played since claiming a 22-14 win over #8 Dove Creek two weeks ago. Chase Moore averages more than 220 yards a game on the ground, with 13 touchdowns in just four games. Kail Wayman has added 223 yards and three scores, while also proving to be a top receiving threat for Ayden Matthews, hauling in 10 passes for 212 yards and two more scores. Matthews leads the defense with 46 tackles, 11 ahead of Chris Medina. Moore is third with 34. Mason Goodwin has a team-leading 6.5 sacks.
Sanford was slated to face Norwood (0-4, 37th RPI) last week, but after the Mavericks had to cancel due to a lack of healthy players, the Indians were able to fill the date with a game against Elbert (2-4, 27th RPI). Sanford got back to its winning ways, beating the Bulldogs 58-12. It was Sanford's first action since falling to #3 Vail Christian (6-0, 4th RPI) two weeks earlier. The Indians have won the last two meetings with Mancos, including a 36-28 decision last year in the postseason. Moore ran for 334 yards and four touchdowns on 38 carries for the Bluejays in that contest, while Kelton Gartrell tallied 237 yards and two scores on 23 carries for Sanford. Josh Holman added two rushing scores and a passing TD for the Indians.
Shifting to the Southern division, Calhan (5-1, 8th RPI) hosts division leading #10 Pikes Peak Christian (3-1, 9th RPI) in one of two featured contests. Calhan dropped its league opener to Simla (5-2, 11th RPI) three weeks ago, but wins over Swink (3-2, 18th RPI) and John Mall (0-2, 33rd RPI) have the Bulldogs as part of a three-way tie for second in the division. A win over Pikes Peak Christian would create even more muddling in the race. Ryan Campbell had his second career 200-yard rushing day, posting 271 yards and five touchdowns in Calhan's 50-14 win last week. The Bulldogs went for 500 yards as a team, all on the ground.
Pikes Peak Christian had last week off, and the Eagles will be looking to maintain its grasp on first place in the Southern with a win over the Bulldogs. The Eagles bring in an offense with four backs who have at least 100 yards on the ground this season. Mick Kopriva leads the way with 282, while Caleb Grant has added 271. Adam Seffens (166) and QB Adam Glaze (100) round out the backfield. 
The Eagles have won all three previous meetings with Calhan, including a 40-28 decision last season. The Bulldogs led that one 28-12 entering the fourth quarter. Zach Peterson had two receiving touchdowns and a pick-six for Calhan in that contest, while Kopriva ran for two touchdowns for PPC.
The other big contest in the Southern on Friday night has Simla hosting Swink. The winner will have no less than a share of second place in the division. Swink bounced back from its loss against Calhan to run past Custer County (1-4, 36th RPI) 53-0 last week. The Lions rolled up 410 yards on the ground in that win, with Garlon Guerin toting the rock five times for 161 yards and four scores. Defensively, Swink tallied five sacks (three by Trevin Holland) and three interceptions.
Simla eased past Dolores Huerta (2-4, 30th RPI) 50-20 last week, behind Brayden Glover's 132 rushing yards. He and Caston Cox each ran for three touchdowns. The Cubs created havoc all game on defense, recording 11 sacks (by seven different players) and six interceptions (six different players). Simla will be looking for its eighth straight win over the Lions, as the Cubs have not lost to Swink since 2005. Last season, they took a 26-12 win on the road.
The Arkansas Valley race will start to see some clarity after this weekend. Ninth-ranked Holly (5-1, 10th RPI) and Fowler (5-1, 13th RPI) share the division lead, while Hoehne (4-2, 20th RPI) and Crowley County (4-2, 19th RPI) both sit one game back. Holly will host Hoehne on Friday, while Fowler welcomes the Chargers to town the same night. 
Hoehne had been part of a three-way tie for the division lead before suffering a 52-16 loss at McClave (3-3, 21st RPI) last week. That loss snapped a three-game winning streak for the Farmers, who allowed more than 520 yards of offense to the Cardinals. 
Holly's offense continued to put up big numbers, as the Wildcats downed Las Animas (1-5, 31st RPI) 66-30 last week. The Wildcats led 35-0 after one quarter and never looked back in picking up their fourth straight win. Dakota Eaton threw for 176 yards and three scores on just five completions, Andre Salgado hit on three of four passes for 118 yards and a TD, and Donovan Pecina powered the run game with 149 yards and two scores on eight carries. Fernando Dominguez and Josue Avalos each had two receiving touchdowns. Avalos was also perfect on six PAT kicks.
Holly earned its second win over Hoehne in three years with a 46-28 victory in 2019. The two teams did not play last year, with the Wildcats participating in Season A, and the Farmers taking the title in Season C.
Crowley County rolled to its third straight win, beating Springfield (0-6, 35th RPI) 62-0 last week. It was the second consecutive shutout for the Chargers and their third this season. During their current winning streak, the Chargers have outscored their opponents 184-6.
Fowler brings its own four-game winning streak into Friday's contest, but the Grizzlies very nearly had that streak stopped last week. Wiley (1-3, 22nd RPI) led 34-22 entering the fourth quarter of their match-up last week, but Fowler scored three times in the final frame to escape with a 40-34 victory. The Grizzlies have allowed a total of 84 points in their last three games. This will be their second contest against Crowley County in eight-man, with the Grizzlies taking a tough 32-22 win last season.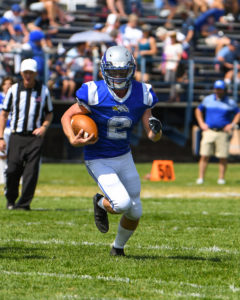 Staying east, but moving north, fifth-ranked Sedgwick County (4-2, 6th RPI) hosts Dayspring Christian, looking to avoid a rare two-game losing streak. The Cougars, who fell to #1 Haxtun (6-0, 3rd RPI) 36-12 last week, have not lost two straight games since the 2014 season. They dropped their final five games that year. That's also the last time the Cougars lost more than one game in a season. 
Dayspring Christian's 56-20 win over Denver Christian (0-5, 32nd RPI) sends the Eagles into this contest on a two-game winning streak. They led 24-0 after one and 44-0 at the half, in keeping the Thunder winless this season. Garrett Krehbiel threw for three scores, Caleb Kayl and Wyatt Eichmann each ran for two touchdowns, and Zach Freeman scored two more times as the Eagles improved to 3-1 in the Plains division. Dayspring Christian will be seeking its first win over the Cougars since the aforementioned 2014. They've dropped seven straight meetings since their last win in the series. The Eagles had won eight straight prior to their current losing streak against the Cougars.