Sixteen teams made the playoff bracket in eight-man, including six-time defending champion, Sedgwick County. However, the Cougars aren't the favorites this year, with league rival Haxtun holding the top overall seed, and Mancos sitting on the #2 seed line. Five teams from the Plains division made the bracket, while the Southern, Arkansas Valley, and Mountain leagues all got three apiece. The Central and Northwest each only saw their league champions qualify.
PHOTO PROVIDED BY RICK KREHBIEL
#1 Haxtun (9-0) vs #16 Byers (6-3)  FRIDAY 7PM
While so much focus in eight-man is on the offensive side of the ball, Haxtun's defense is the biggest reason why the Fightin' Bulldogs are considered one of the favorites this season. That unit has only allowed 64 points this season, just over seven points a contest. They have four shutouts, including last week's 58-0 blanking of Akron. Isaac Andersen leads the defense with 90 tackles, and his two interceptions are second. Kailin Kelley is second with 77 tackles, and Grant Statz has 73. Ozzy Coss has registered a team-high eight sacks, while David Avery is tops with four interceptions.
Offensively, the Fightin' Bulldogs average just under 352 yards a game on the ground, paced by Michael Gerk, who has 1056 yards and 14 touchdowns on the season. Andersen is closing in on his own 1000-yard season, as he's compiled 904 yards and 18 scores. Owen Knode is third with 499 yards, to go with 537 passing. He's had a hand in 14 touchdowns. Gerk is the leader in receptions (12), while Kyle Fryrear is the big play threat, averaging 21.2 yards per catch, and scoring four touchdowns.
Byers began the season with three straight losses, with the Bulldogs being outscored 126-30. They bounced back to win their final six games, that included a perfect run through the Central division. Senior quarterback Dean Kerns is one of the offensive stars for the team, throwing for 686 yards and 11 touchdowns, and adding 509 yards and a team-best 13 scores on the ground. Ceasar Meza leads the ground attack with 632 yards, and Corey Russell has added 464 more. Those two have combined for nine scores. Nine of Zach Cary's 39 carries have ended in touchdowns, and he's also scored six times as a receiver.
The Bulldogs have seven defenders with at least 38 tackles, with the duo of Kaiden Powell (55) and Evan Alder (52) leading the way. The unit only has six takeaways on the year, four on interceptions. 
This is the third meeting between the programs, with Haxtun winning both previous contests. It was a 27-20 victory in 2018, and then a 50-38 decision the following year. Andersen ran for 253 yards and three scores in the latest match-up, and Gerk caught a TD pass from Knode.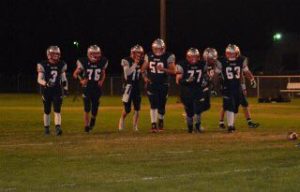 #8 Akron (6-3) vs #9 Calhan (8-1)  SATURDAY 1PM
Akron finished fourth in the Plains division, with all of its losses coming in league play. The Rams had a three-game winning streak snapped by Haxtun last week, as the team managed a season-low 43 yards of offense. On the season, Ryan McCaffrey leads the Rams with 1002 passing yards and 16 touchdowns, and his 522 rushing yards are just four back of Anderson Filla for the team lead. They have combined for 15 rushing touchdowns. Ivan Losa is third on the team with 429 yards and six touchdowns, and he's averaging close to 30 yards a catch out of the backfield. Evan Vogt and Evan Pieper each have five receiving scores, one more than Losa.
Filla leads the defense with 73 tackles, while Losa (49), David McCaffrey (45), Pieper (43), and R. McCaffrey (40) give the unit depth. Xavier Livesay is third in the classification with a dozen sacks, two behind the state leaders. The Rams have 26 takeaways on the year, including five interceptions by Vogt. Losa has a punt return for a score this season.
Calhan overcame a loss to Simla in the league-opener to claim the Southern division title. The Bulldogs enter the postseason on a five-game winning streak, with last week's 60-36 win over Dolores Huerta giving them the division title. As a team, the Bulldogs run for just a tick under 290 yards a game, with Ryan Campbell pacing the squad with 1078 yards and 18 TD on the year. Aiden Jack has added 866 yards and nine touchdowns on the ground, and 267 yards and four scores through the air, while Logan Jack has tallied 517 yards on the ground and 165 passing. Campbell and Zach Peterson each have 10 receptions to lead the offense, and each has turned three of their catches into touchdowns.
On the other side of the ball, Aiden Jack is one of four players in the classification with at least 100 tackles. His 160 stops is just two off the state lead. Logan Jack has 97, putting him fifth in all of eight-man. The Bulldogs have one more takeaway than does Akron, with Campbell recording nine interceptions and Peterson adding eight. 
Akron won the only previous meeting with the Bulldogs, back in 2008.
#4 Dove Creek (6-2) vs #13 Crowley County (6-3)  SATURDAY 1PM
A touchdown and two-point conversion separated Dove Creek from Mountain division champ Mancos during the regular season. The Bulldogs went on to claim second in the division with last week's 44-28 win over Sanford. Dove Creek ran for 346 yards in that win. On the season, they average 255, led by Gage Buffington with 729 yards and Chorbin Cressler with 520. They have 19 touchdowns between them. Cressler's also thrown for 460 yards and six touchdowns, with Kade Hankins (13/200/3) and Buffington (5/141/1) being his top targets.
Just one tackle separates Blane Johnson (69) and Quaden Huffaker (68) atop the team standings. Tyson Beanland has a team-leading six sacks, while Cressler and Cole Taber each have two interceptions to share the team lead. Taber also has two fumble recoveries, tying the junior for the lead with Johnson. 
Crowley County had a shot at the Arkansas Valley title last week, but came up short against Holly, 55-36. The Chargers gave up 536 yards of offense in that contest, 264 on the ground. Tach Brewer pushed his season passing totals to 669 yards and 10 touchdowns, and he's also rushed for just short of 200 on the year. Dillon Buford leads the team with 901 yards and 15 scores on the ground, while Sam Parker has 12 receptions for 350 yards and six touchdowns.
Brandon Geringer (46), Dalton Carroll (44), Skeater Baker (43), Buford (40), and Byars Brown (39) are closely bunched at the top of the team's tackling board. Buford has a team-high four interceptions to pace the unit, which has recorded 21 takeaways. Five have resulted in touchdowns, to go with two more scores on kick returns.
With Crowley County only transitioning down to eight-man last season, there are no recent match-ups between the Chargers and Dove Creek.
#5 Holly (8-1) vs #12 Swink (6-2)  SATURDAY 1PM
The win over Crowley County last week gave Holly the Ark Valley crown and sent the Wildcats into the postseason on a seven-game winning streak. They haven't lost since dropping a 36-30 overtime contest to Akron back in week two. Dakota Eaton is the most prolific passer in the classification, bringing 1887 yards and 23 touchdowns into the first round contest. He enters the game 159 yards away from 5000 in his career. He's also third on the team in rushing yards with 464. Donovan Pecina leads with 773, followed by Daunte Maldonado with 534. Dominique Maldonado has added 329. Fernando Dominguez is the top target in the passing game, hauling in 41 passes for 846 yards and 10 TD, while Colby Swopes has also been a factor with 23 catches, 450 yards, and six scores.
The Maldonados are first and second on the defense in tackles, with Daunte having 64 and Dominique adding 57. Swopes (55), Pecina (50), and Andre Salgado (49) all following closely. Swopes is tied for the classification sack lead with 14, while the rest of the team has combined for 10.5. Devin Eaton has a team-high four fumble recoveries. Josue Avalos has converted 14 of 15 PAT kicks this season, and has also registered 12 touchbacks on 31 kickoffs.
Swink went into the final week of the regular season with a chance to earn the Southern division title with a win and a Calhan loss. The latter of those did not happen, and the Lions settled for second in the league. They've won four straight since a 12-6 loss to Calhan. While their offense is led by the rushing attack that has amassed more than 2500 yards (Garlon Guerin has 1339 with 15 touchdowns), Hank Bauserman has thrown for 1018 yards and nine touchdowns to keep defenses off-balance. Trevin Holland (20), Ben Miner (17), and Clay Roweth (14) all have caught more than ten passes this season.
Those three are also leaders on the defense, as Roweth leads the classification with 162 tackles, and Miner is tied for sixth with 94. Holland is tied with Holly's Swopes for the state lead with 14 sacks, and Cody Lockhart has added eight. Guerin has three interceptions to lead the unit. 
This will be a rematch of a week one contest that Holly won 42-28. That game saw the teams combine for 984 yards of offense. Holly ran had three players go for more than 100 yards on the ground, as the Wildcats racked up 388 on the ground, with Eaton adding 131 through the air. Bauserman tallied 290 yards (231 passing) as the Lions showed good balance with 234 on the ground. It was the third straight win for Holly in the series, but Swink owns a 6-3 edge in recent match-ups.
#3 Vail Christian (9-0) vs #14 Pikes Peak Christian (4-3)  SATURDAY 1PM
As the league champion, Vail Christian is the lone representative from the Northwest division in this year's bracket. The Saints burst on the scene with their 36-22 win over Sanford in late September. They posted shutouts in three of their last four games during the regular season, and the 110 points allowed during the year are fourth fewest in the class. 
Taylor Shull has led the offensive unit this season with 1588 yards and 20 touchdowns, while also running for 609 yards and seven scores. Vincent Nowicki leads the ground game with 671 yards, to go with six touchdowns. Nowicki is also a key target in the passing attack, as the senior has pulled down 32 catches for 488 yards and six TD. Jeffrey Hall has 24 receptions for 542 yards and seven scores, while Daniel Farrell (10/185/2) and Leo Rothenberg (8/158/4) make opponents pay for focusing on the top two.
Pikes Peak Christian was in the mix for the Southern crown until consecutive two-point losses to Calhan and Swink knocked the Eagles out of contention. They righted the ship just in time for the postseason with last week's 58-6 win over Custer County. Three backs have rushed for more than 300 yards on the season, led by Caleb Grant with 576 and five TD. Mick Kopriva has added 461 and four touchdowns, and Adam Seffens has 333 with three scores. Adam Glaze has thrown for 490 yards and four touchdowns, to go with 175 rushing yards. His seven touchdowns on the ground lead the team. Thomas Soliz has three of the team's four touchdown receptions.
Grant shares the team lead in tackles (64) with Seth D'Anna, while D'Anna leads the team with four sacks, one more than Kopriva. Samuel Edwards and Eddie Harmon each have two interceptions and two fumble recoveries. Edwards returned one of his picks for a score.
Pikes Peak Christian is just 1-3 versus Vail Christian, but their lone win came in the last meeting. That was a 52-16 decision in the first round of the 2018 postseason. The Eagles reached the semifinals that season.
#6 Sedgwick County (6-3) vs #11 Sanford (5-4)  SATURDAY 1PM
Sedgwick County is looking for its seventh consecutive title, but the Cougars will have to do so as an underdog. For the first time since 2014, they finished with more than one loss in a season, and they also suffered their first two-game skid in a season since that same year. After dropping games to Haxtun and Dayspring Christian, the Cougars closed out the regular season with wins over Sanford and Caliche by a combined score of 95-6.
Sanford suffered key injuries to Kelton Gartrell and Josh Holman in the mid-season loss to Vail Christian, though both have since returned. The Indians were averaging 62 points through four games, all wins, but only scored 26.4 points over their final five. They went 1-4 in that stretch, and come into the postseason having dropped their last two.
Sedgwick County won the meeting two weeks ago, 42-0, building a 28-0 halftime lead and then cruising home. The Cougars also defeated Sanford for last year's Season A title, 72-32.
#7 Dayspring Christian (6-3) vs #10 Merino (5-4)  SATURDAY 12PM
Dayspring Christian finished as the runner-up to Haxtun in the Plains division, thanks to a head-to-head victory over Sedgwick County that gave the Eagles the tiebreaker over the Cougars. Garrett Krehbiel led the Eagles with his legs and his arm, as he finished with 1070 yards and 14 touchdowns rushing, and 766 yards and 14 more scores through the air. Wyatt Eichman (673 yards, 10 TD) and Zach Freeman (376 yards, 7 TD) combined for just under 1050 yards on the ground. Freeman was also tied with Jacob Martin for the team lead with 19 receptions.
Austin Cecil paced the defense with 73 tackles, with Eichman (68) hot on his heels. Isaiah Bryant and Landon Bonnell each had three sacks in the regular season to lead the Eagles, while Jacob Martin and Jaxon Martin each had two interceptions. Jacob recorded 20 passes defended, and Jaxon added 15.
Merino, the fifth place finisher in the Plains, dealt with injuries to a number of key players during the year and still managed to end up with a winning record. The Rams were outscored by one point (225-224) during the regular season, thanks in large part to lopsided losses to Mancos (49-8) and Haxtun (64-20). They bring a three-game winning streak into the postseason. 
One of the wins for the Rams came two weeks ago, 30-22 over Dayspring Christian. It was the 20th meeting between the Rams and Eagles since 2006. Both teams have won 10. During that stretch, Dayspring Christian has averaged 26 points a game to Merino's 23. There has only been one shutout and one game that saw a running clock. Merino also won last year's contest, 44-30.
#2 Mancos (7-0) vs #15 Fowler (6-3)  SATURDAY 12PM
It seemed like every other week, Mancos was scrambling to find an opponent this season. In the first two-thirds of the season, the Bluejays, winners of the Mountain division, had three stretches in which they did not play on consecutive weeks. Still, they were able to stay sharp, having only one on-field contest decided by fewer than 36 points. That was their win over Dove Creek (22-14). The defense, behind leading tacklers Ayden Matthews (68) and Chris Medina (58) recorded a pair of shutouts this season. Mason Goodwin had 6.5 sacks to help the Bluejays allow just nine points a game in their six contested games.
The Bluejays pair that stifling defense with a power running game that is spearheaded by Chase Moore, who brings a classification leading 1401 yards into the postseason. His 21 touchdowns also lead all of eight-man. Moore enters the game needing 85 yards for 5000 in his career, and he's two touchdowns away from 80. If teams pay too much attention to him, Matthews is able to beat them with his arm or legs. The junior QB has 402 yards and seven TD passing and 179 yards with four TD on the ground. Kail Wayman is the leading receiver with 13 catches, 265 yards, and four scores. He's also recorded 333 yards and five touchdowns as a runner.
Despite a loss to Akron early in the season, Fowler still had high expectations heading into Ark Valley league play. However, consecutive losses to Holly and Crowley County midway through October left the Grizzlies fighting for their postseason lives entering the final week of the regular season. They picked up a 42-30 win over last spring's Season C titlist, Hoehne, with Gage Gottbehuet throwing for 246 yards and five touchdowns. That pushed him to 1118 yards and 19 TD on the season. Bradley Roe had three receiving scores last week, giving him a dozen on the year, on a team-high 37 catches. Boyd Rogers has added 20 receptions for 328 yards and six touchdowns. Justin Totten (390 yards, five TD) leads the ground attack.
Harrison Proctor stands atop the tackling list for the Grizzlies, having recorded 93 to date. Jacob Buchner is next with 65. Roe's good hands carry over to defense, where he's registered four interceptions. Rogers has two, to go with three fumble recoveries. Two of those have been returned for scores, and the Grizzlies also have a pair of kick returns for touchdowns on the season.
The only previous meeting between the two sides also took place in the postseason. Fowler snagged a 34-28 victory on the road in the 2019 quarterfinals. Moore, then a sophomore, was held to 70 rushing yards on 18 carries in the loss. The Grizzlies reached the title game that season and finished runner-up to Sedgwick County.