PARKER – Through 24 minutes of play, it looked like the day was going to belong to Zach Stryker and the Ponderosa Mustangs. They had forced two Erie turnovers and jumped out to a 17-point lead at halftime.
But the Tigers apparently hunt better when they're chasing.
Erie came out and forced four turnovers in the second half and seized every ounce of momentum possible to get a 43-25 win and advance to the Class 4A football semifinals.
The state runner-up a year ago, a bad start to the season saw the Tigers (9-4 overall) come into the postseason as the No. 11 seed, but they were all smiles after getting their second upset win in as many weeks.
"It's so fun being an 11 seed and upsetting six seeds and three seeds," quarterback Blake Barnett said. "We were doubted all year long and lost to (Ponderosa) in Week 1 and then crushed their dreams in the quarterfinals."
If the last two years are any indication, Barnett does his best work in the postseason. He picked off Stryker early in the second half and it was that turnover that swung the momentum back in Erie's direction. Preston Terranova came up with two interceptions of his own in the second half and freshman Braylon Toliver added another.
The only second-half possession that the Tigers didn't start with field position near midfield was their final one after stopping the Mustangs (9-3) on 4th and 2. Three of their offensive possession started at the Ponderosa 10 or better.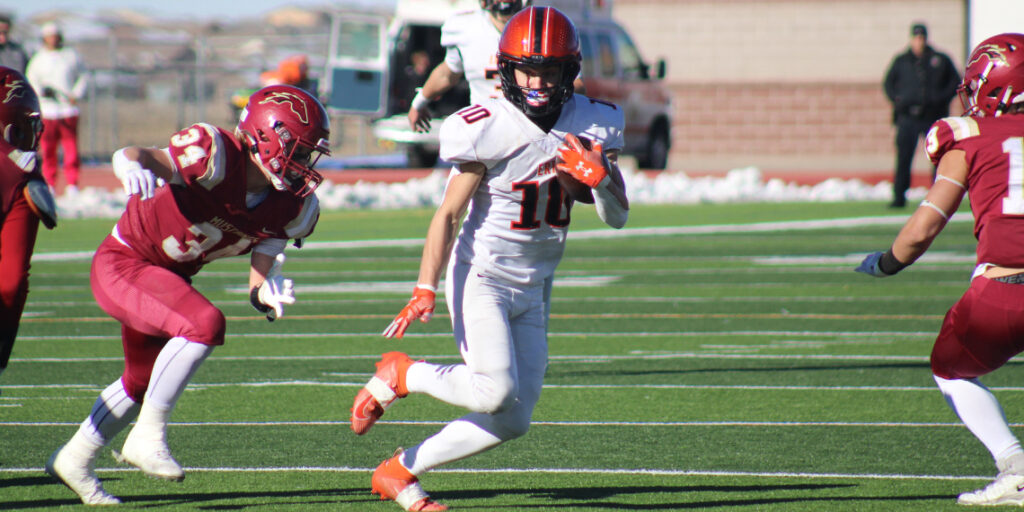 "It was a half of turnovers and field position," Ponderosa coach Jaron Cohen said.
And the Tigers capitalized. They spent the majority of the second half running the ball. In fact, Barnett threw just two passes in the second half, one of which was a 27-yard touchdown pass to Caden Lettis. The other was incomplete.
On the day, Barnett rushed for 108 yards and two touchdowns. He only threw for 94 yards but had a touchdown to go with his two interceptions early in the game. And he provided invaluable leadership with the Tigers down big at halftime.
"There was a lot of bad going into the second half," Barnett said. "I threw two picks and the defense wasn't really clicking. I brought everyone in and told them to believe. I knew I could bring us back."
It was far from a solo effort and it speaks to the growth the team has seen this season. They lost four of their first six games and really had to clamp down and figure out what made this team so special a year ago that it was able to make a run at the 4A championship.
"There was a turning point after our last loss," Terranova said. "At practice we said that we were all-in. We started 1-3 and since then we've been all-in and we do it for each other."
A loss to Ponderosa in Week 1 was part of that stretch. They got vengeance on Saturday. In that stretch they also lost to Broomfield, the very team the Tigers will see next week.
"We'll make sure we enjoy today," Erie coach Jeffrey Giger said. "Then we'll worry about what's next and hopefully we get a second chance (at Broomfield)."