In running through the volleyball schedule, the list of important matchups quickly became a long one.  There once again are several matchups of highly ranked teams plus league play gets started with many pairings of early season favorites.  Below are some storylines for the week with a great list of tournaments lined up to close the week on Saturday.
PHOTOS PROVIDED BY
Roz Long / Feature Photo
ROB GRAHAM / GRANDVIEW HS
SHIRLEY CISKOWSKI / GENOA HUGO
Two Important Early Conference Meetings inside 2A/1A Western Slope
With seven of the 13 conference members compiling winning records to this point of the season, the chase for the championship should be interesting.  Three teams are unbeaten overall and two of them, Meeker and Soroco (both 5-0), collide on Saturday for a very important early season showdown.  Soroco is 1-0 in league action as the Rams fought past Vail Christian in four sets last Thursday.  They feature three very good senior hitters in Peyton Parker (43 kills), Sophia Benjamin (40) and Eden Mayer (39).  Classmate Irene Hoff sets them up with a team best 134 assists against just seven errors.
Meeker is coming off a solid weekend where they rallied past 3A Delta in five sets and then returned home to sweep Limon.  Emma Luce registered 34 kills against Delta and then added 26 more against Limon.  On the season she has 130 kills in just 19 sets played.
Vail Christian looks to rebound from the Soroco loss by upsetting Olathe on Friday.  At 7-0, the Pirates are the third conference team without a loss and they've dropped just three sets the entire season.  They've also posted league wins against North Park (3-0) and Rangely (3-1).  Daisey Ibarra tops the team with 38 kills with Sadie Shea (24) and Sieanna McCall (21) next in line.  Jenna Schenck already has 100 digs on the defensive side with Ibarra adding 73 and Shea 69.  Makena Liles is the setter with 116 assists.
Key Early Stretch in the 3A Intermountain League
Montezuma Cortez is the defending league champion and coming off an appearance in the state tournament.  The Panthers start off defense of that title with two very difficult matches this week.  They face Bayfield on Tuesday and then Pagosa Springs on Saturday.  Both matches are at home but the Panthers also have return trips with both clubs as each team in the IML faces each other twice in conference play.
The Panthers have played just four matches and none against 3A competition.  In-state wins have come against 2A opponents Ignacio, Dolores and Telluride and they've also beaten Monticello UT.  Seniors Avery Wright (39 kills) and Sariah Robinson (27) are an effective one-two punch at the net and also lead the way defensively with a combined 59 digs.  Adezdiin Boeckman returns at setter and has 81 assists through 11 sets.
Pagosa Springs (6-0) is unbeaten and has momentum from the weekend where they captured the title at the Glenwood Springs Tournament.  They downed league rival Alamosa (2-0) in the championship match; their second win over the Moose as they also scored a 3-2 league win back on August 27th.  Pryscylla Howard (31 kills), Kori Lucero (30) and Lynelle Bartz (28) are all active at the net as Audrey Martin (127 assists) does an excellent job of moving the ball between hitters.  Keira Torrez, with 78 digs, anchors the defensive effort.
Bayfield sits a game above five hundred (3-2) but has played the most difficult schedule of any league member.  They split four matches at the Eaton Volleyball Jam on August 28th with wins over 5A Loveland and 4A Longmont while losses were against top 10 opponents from 4A, Mead and Holy Family.  After meeting Montezuma Cortez on Tuesday, the Wolverines are back to the Metro to compete in the rugged Lewis Palmer Tournament.  They're in the same pool with Niwot and Windsor; both who will likely be ranked in the top 10 again this week.
Senior Annie Fusco (65 kills) is the first option at the net.  Sage Killough gets her the ball and has 95 assists so far this season.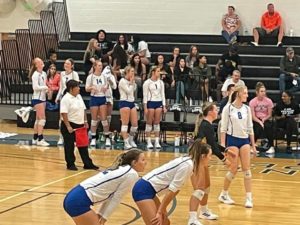 Some Early Shuffling Could Take Place in the Union Pacific
Limon, Stratton and Genoa Hugo are three teams that have enough talent to win the Union Pacific championship and earn an automatic bid to their respective regional tournament.  Genoa Hugo faces both the Badgers and Eagles this week and wins in both will give them the early advantage.
First up is a battle with Stratton on Tuesday.  The Eagles are 4-1 on the season with a lone loss against Haxtun (2-0).  They've since responded with three straight wins including a quick sweep of Cheyenne Wells on Saturday.  The Eagles gave up just 34 points overall in grabbing the easy win.
Full stats are not available but Kennedy Frank (29 kills) and McKenna Notter (20) are the early hitting leaders.  Sedonia Isenbart has 62 assists.  Notter (39) and Madison Tagtmeyer (38) are the top two leaders in digs.
Limon is on the schedule for Thursday and for the Badgers it will be their first court action since losing at Meeker in three games.  It's their only loss of the season.  They also own a five-set marathon win over Kit Carson.  Senior Trista Marx has already powered down 82 kills and picked up 73 digs.  Both easily lead the Badgers.  Sophomore Katelyn Tacha has 81 assists through 14 sets.
Genoa Hugo carries a 4-0 mark into the highly anticipated week.  They've dropped just one set in those matches and that came last Friday in a 3-1 win over Kit Carson.  That match was very tight overall with all four sets decided by three points or less.  Glorya Carr had 17 kills and Baylee Kelly 13 to pace the Pirates.  Carr added 25 digs and freshman Jayli Lockhart found enough space for seven aces.  Tarra Miller finished with 25 assists.
Thursday Marks a State Finals Rematch in Class 4A
Palmer Ridge beat Mead 3-1 last May to capture their first-ever state volleyball championship and now the two clubs meet on Thursday in an official rematch.  It's actually the second matchup of the season as Palmer Ridge downed the Mavericks 2-0 as part of the Northern Colorado Volleyball Jam on August 28th.  That win has been part of a dominant start to the season for the Bears who have dropped just one set while producing six victories.
The match earlier this season was very tight with the Bears winning 25-23 and 25-22.  Corrie Anderson had nine kills; Madison Wilson eight and Eva Larochelle seven.  Emily Klahn had eight digs and Ciara Connors seven.  Junior Kyra Kisting directed the attack and closed with 23 assists.
Mead has battled inconsistency through the first three weeks; winning three matches but dropping four.  The Palmer Ridge loss actually started them on a current three-match losing streak.  The Mavericks lost to University in the third-place match at the Northern Colorado event and then fell in five sets to Frederick last Thursday.  They'll look to snap that streak against Erie on Tuesday before focusing on Palmer Ridge.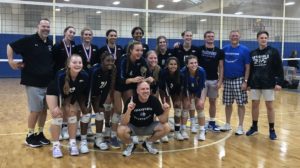 Grandview and Highlands Ranch Duke It Out Once Again
Grandview outlasted Highlands Ranch in five sets to win the Chaparral Showcase championship last Saturday and that match was so good, the two will meet up again this Thursday in Aurora.  The Falcons actually took the first two sets on Saturday; winning 25-17 and 25-21 before watching the Wolves come all the way back.  After winning a tough third set 26-24, the Wolves then finished off the sweep with 25-13 and 15-12 wins in sets four and five.
Haley Glunz topped the Wolves offense with 18 kills but plenty of support came from Emerson Deferme (13) and Isabel Bennett (10).  They finished with 56 kills on the day; just four more than the Falcons.  HR picked up 25 from Jolie Cranford and 14 from Lillie Lynch.
The Falcons had a huge advantage at the service line as they collected 18 aces to just six for the Wolvers.  Lynch had seven and Bella Romano five.  Grandview had 51 assists in their win; including 41 from Maya Deferme.  The Falcons had 48 with all but three earned by Nicole Johnston.
Grandview is also challenged by Legend before the rematch with Highlands Ranch.  For the Falcons, the Grandview battle is their only match of the week.
Additional Big School Matches of Note (Classes 4A & 5A)
Valor Christian at Regis (Tuesday)
Lewis Palmer at Coronado (Tuesday)
Chaparral at Cheyenne Mountain (Tuesday)
Pueblo West at Coronado (Thursday)
Thompson Valley at Niwot (Thursday)
Regis at Mullen (Thursday)
Holy Family at Windsor (Thursday)
Palisade at Eagle Valley (Saturday)
Additional Smaller School Matches of Note (Classes 1A-2A-3A)
Resurrection Christian at Sterling (Tuesday)
Holyoke at Merino (Tuesday)
Wiggins at Weldon Valley (Tuesday)
Cheraw at South Baca (Thursday)
Coal Ridge at Delta (Thursday)
Briggsdale at Weldon Valley (Friday)
Cheyenne Wells at Kit Carson (Friday)
NOTE:  We may expand coverage on some of these matchups with another update later in the week.
Quite a Few Tournaments Set for Saturday
We'll spend the week gathering schedules and brackets for the events below and update later in the week but many are major tournaments where top teams will collide
Lewis Palmer Tournament
Cherry Creek Tournament
Bethune Tournament
Bennett Invitational
Brush Tournament
Machebeuf Tournament