With conference play taking center stage on the volleyball schedule this week, Tuesday shapes up as an important day across many fronts.  We break down the top matches in each classification and provide notes on what results will mean to league races and playoff positioning down the road.
FEATURE PHOTO BY TERESA O'DWYER / OT SPORTSCHECK
CLASS 1A
It won't be official but we could see the High Plains league champion crowned tonight as Cheraw can take another major step to winning that title by beating McClave.  The Wolverines took their first step in beating Kit Carson last Friday and another win this evening gives them victories over their top two challengers.  For Cheraw, the victory over Kit Carson was their first over the Wildcats since 2014 and it set them up for a strong league championship push.
Merino is again ranked number one but enters this week coming off their first loss as they fell to Sedgwick County on Friday.  That match went five sets before the Rams fell 15-13 in the decisive fifth game.  Another quality 2A opponent is on their docket tonight as the Rams entertain Limon.  The Badgers have just one loss to Meeker and have climbed to sixth in the rankings this week.
Trista Marx tops the Limon offense with 124 kills and is also the top defender with 123 digs.  Kaitlyn Tacha has a team best 149 assists.
CLASS 2A
The state championship match between Wiggins and Sedgwick County headlines the schedule this evening.  Wiggins won the title last year and the rematch could be considered a toss-up.  The Cougars are ranked second and the Tigers third this week.
Sedgwick County has momentum from last week's win over Merino where they battled through five hard fought sets.  Four of the five sets were decided by four points or less and two went into extras.  Alison Woodhams had 13 kills with Gabrielle Powell and Kierra Ehnes both chipping in ten.  The Cougars served up 11 aces and recorded 78 digs including 16 from Jensen Renquist and 15 from Woodhams.  Woodhams also collected 21 assists and Renquist 18.
Should the Cougars land the win tonight, they are very close to the league championship likely needing a win over Haxtun later this season to clinch.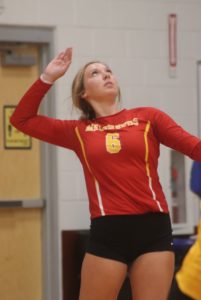 Wiggins looks to bounce back from a loss to Haxtun last Tuesday where they failed to win a set.  But it was a close battle as each set was decided by four points or less.  A loss tonight likely takes the defending state champions out of the league championship picture.   They remain very much alive with an upset and sets up the possibility of three-teams sharing the championship which occurred last season.
Rocky Ford gets a chance this week to see if they can compete with the top two clubs in the Santa Fe chase.  They go to Hoehne tonight and then battle Fowler on Thursday.  The 4th ranked Grizzlies are alone atop the standings (6-0) with a one game edge on the Meloneers and Hoehne (both 3-1).  Tonight's winner has second place to themselves and if that team is Rocky Ford, then the Meloneers can
CLASS 3A
With five teams ranked in the top 10 this week, the Patriot is again one of the deepest leagues in any classification.  No team has played more than two conference matches so it's still very early but the sorting out process will continue with three matches tonight.
The best may be between Resurrection Christian and University as the Cougars sit atop the statewide rankings and University is third.  Also tonight, #4 Liberty Common is favored at Valley and #6 Eaton entertains Platte Valley.  Early standings have Resurrection Christian and University at 2-0 with Eaton and Liberty Common both 1-0.
Resurrection Christian (7-0) is unbeaten and has dropped just two sets the entire year.  One of them came against Platte Valley last Tuesday in the conference opener as they toppled the Broncos 3-1.  The Cougars out hit the Broncos 45-34 with Reagan McWhinney and Bryleigh Schweer each provided 11.  Lexi Reeser had 12 digs and Aly Reeser 11 with Kylee Nordhagen earning 35 assists.
University (10-1) suffered their only loss to Brighton in the Northern Colorado volleyball jam semifinals last month.  They've since won seven straight contests including league wins over Valley (3-1) and Strasburg (3-0).  The Bulldogs also tangle with Eaton next Tuesday so they're entering a key league stretch.
Top hitters are Chloe Ruhl (82 kills) and Aesha Alrashed (81).  Two others have at least 40 kills as the Bulldogs get many players involved up front.  Daryn Whitmoyer (134 assists) and Kaitlin Smith (124) both see minutes at setter with Ruhl (107) and Logan Conlin (100) reaching triple figures in digs.
Eaton (6-3) dropped their first three matches but has won their last six.  That includes a sparkling 3-1 win over Lutheran last Thursday.  They also visit Sterling on Thursday so it's a difficult week for the Reds.  Liberty Common (10-0) is unbeaten but has faced only one 3A club that's been ranked this season; they beat Faith Christian 3-1 behind a combined 31 kills from Reina Krueger (16) and Karli Krueger (15).
Elsewhere in the division, we get a couple of important early pairings in the Frontier as DSST-Montview meets Academy and Lake County goes to Middle Park.  Middle Park is a traditional challenger to that league championship but this will be their first league match on their schedule.  The other three are a combined 6-0 in conference and 21-3 overall with DSST-Montview ranked ninth this week.
Lamar is favored to land the Tri Peaks title and picked up quality wins over St Mary's and Manitou Springs last week.  Another challenger to the Savages could be James Irwin as they've opened the season with seven straight wins.  They begin league action at St Mary's (3-3) this evening.  James Irwin is young up front as sophomores Gabby Liles (77) and Jayla Higgs (52) are one-two in kills.
CLASS 4A
Skyline and Longmont join Erie as the remaining three unbeaten teams atop the NCAA division.  One will fall off the pace as the Falcons visit the Trojans across town in Longmont.  Erie looks to keep pace with the winner but they have a tough assignment with Holy Family.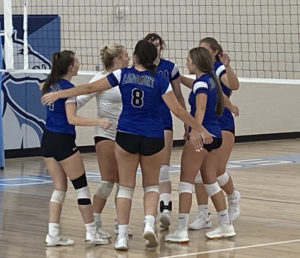 Skyline has played just four matches this season but has won three including victories over league rivals Greeley Central (3-1) and Greeley West (3-0).  Tonight's match begins a rugged stretch that includes Windsor, Holy Family and Erie as the next three clubs on deck.  There is balance offensively has five players have at least 10 kills including 22 apiece from seniors Sydney Caquelin and Maya Nagell.
Longmont is 3-0 in conference play but just 2-4 away from it.  Four of the five losses are against teams that are currently or have been ranked at one point this season.  They've also beaten Greeley West and Greeley Central with Centaurus marking their third league win. Against Greeley Central last week, Emily Foraker had 14 kills with Morgan Watts and Bridget Kusbel each adding 10.  Madison Jonason had a season-high 50 kills and now has 246 for the season.
4th ranked Erie has won their last six matches including high quality league wins over Mead and Windsor.  Both of those went five sets but wins keep the Tigers very much in the league championship picture.  Maggie Olson leads the Tigers with 75 kills and Rowan Ramsey is next with 56.  Freshman Avery Malek has 70 digs to pace the defense.  Olson is next with 67 and Jadyn Aragon has 63.
Windsor is ranked fifth and Mead 10th this week.  Their losses to Erie have them sharing fourth place in the conference (both 2-1).  They face off tonight in Mead with the loser falling two games out of first place.
The Pikes Peak league schedule gets started tonight and the chase should be exciting.  Seven league members are currently above five hundred and all have legitimate hopes of land the league title.  Two of them meet tonight as 3rd ranked Cheyenne Mountain (4A) meets Fountain Fort Carson.  The Trojans are a 5A school with an overall record of 8-1.
A second attractive pairing has Lewis Palmer (5-4) at Discovery Canyon (4-5).  The Thunder are underwater record wise but coming off a state tournament experience from last season.
CLASS 5A
There are exceptions of course but almost every year the big school state champion resides in either the Continental or Centennial conferences.  Rankings reflect that as this week, the two conferences have a combined five teams among the top eight in the state.  Cherry Creek and Grandview are 1-2 followed by Mountain Vista and Chaparral.  Highlands Ranch is also 8th.
While the Centennial waits until Thursday to get their league schedule off and running, there are three nice matchups in the Continental tonight; Highlands Ranch goes to Mountain Vista in a top 10 battle, Rock Canyon challenges #4 Chaparral and Regis heads to Legend.
Standings wise, Highlands Ranch and Chaparral are both 2-0 in conference play with Mountain Vista and Regis both at 1-0 so some winners will gain some early separation from the others.
Highlands Ranch senior Jolie Cranford is the league's top hitter with 177 kills followed by Chaparral's Katie Dalton with 151.  Jordan Jones tops Regis (118) with Rock Canyon getting 102 from freshman Alivia Eikenberg.
The Front Range chase also begins tonight with a nice meeting of Broomfield and Fort Collins.  The Eagles (10-2) are up to sixth in the rankings this week while the Lambkins are traditionally a top team in the league race.  They're 4-3 overall going into conference play.
Emma Winter (151 kills) and Sophie Buschmann (146) pace Broomfield at the net and seem to get equal chances from setter Macy Mahoney (372 assists).  Fort Collins counters with defenders Emily Johnson (27 blocks) and Alex Ley (13)  along with Victoria Stoner (97 digs) and Sidney Kettlekemp (79).