Limon and Strasburg have squared off in the last three state championship games and they renew the rivalry on Friday with a regular season clash.  The Badgers have won all three title matches and has also won two of the last three meetings during the regular year.  Coming off an impressive 43-6 victory at Meeker last week, Limon will again be favored this week.
FEATURE PHOTO PROVIDED BY TERESA O'DWYER / OT SPORTSCHECK
BUENA VISTA PHOTO PROVIDED BY ALAN VERSAW
GRAND VALLEY PHOTO PROVIED BY JULIE RIDER
Defense carried the Badgers to the state championship last year as they limited the Indians to just 88 yards rushing and 95 passing while posting a 28-0 shutout.  The Badger defense also intercepted three passes.
The defensive group was strong again last week as they held Meeker to just 86 yards of offense over the entire game.  Gabe Schubarth had a team-high seven tackles and Brady Rockwell added five.  Michael Hoffman also blocked a punt.
On offense, Limon ran for 308 yards including 149 yards and two TDs from senior Jeremiah Leeper.  Schubarth added 85 and also reached the end zone twice.  Trey Hines attempted just six passes but completed four for 54 yards.
Strasburg returns their entire offensive front from last year's title game appearance and they relied on that group in last week's win over Yuma (19-16).  The Indians trailed 16-12 but the offensive line helped them sustain a long game winning drive that took up most of the fourth quarter.
The Indians totaled 323 yards rushing in the win including 157 from Zack Marrero.  He also collected 104 yards in a season opening loss to Platte Valley.
Florence has been the most dominant team through two weeks; outscoring Peyton and Clear Creek by a combined 121-0.  Overall, the Huskies have had just 24 running plays in those two wins but nearly half (10) have reached the end zone.  Jian Aguilar has four TDs with all coming in the first week win over Peyton.  He had just one carry in last week's blowout of Clear Creek.
Defense has set up short fields for the offense as the Huskies have seven turnovers.  They've also returned three kicks for touchdowns.
In week three, the Huskies could get pushed by 2A Weld Central (1-0-1).  The Rebels were winless in 2020 but tied Englewood in week one and then easily moved past Arvada 40-7 last Saturday.  Zayne Stam was the difference; rushing for 311 yards and five TDs.  Overall, Weld Central ran for 438 yards but the bigger question this week is on defense and whether they can slow down the Huskies physical running game.

Speaking of defense, Wray will have a unique challenge when they line up against Estes Park this week.  The Bobcats had 66 plays in their 46-34 win over 2A Middle Park last week and 51 of them were passes.  Collin Reetz had a huge day; throwing for 407 yards and two scores.  He also collected 59 yards rushing with four touchdowns in the run game.  Favorite targets included Barry Johnson and Kaiden Smith who combined for 15 catches and 266 yards.  Smith also scored twice.
Wray's defense was stout in blanking Goodland 30-0 last week.  Tell Wade had 10 tackles and two sacks so he'll look for similar pressure against Reetz and the Estes Park offense.  The Eagle also picked up five fumbles including two by Caeden Bauer.
On offense, QB Jaden Dodsworth ran for two scores and added two more through the air.
Monte Vista hosts North Fork in what could be a very important game for the Pirates.  They'll likely finish second to Centauri in the Southern Peaks race so they'll need a wildcard berth to make the playoff bracket.  A win over North Fork this week will enhance those chances.
The Pirates handled Rocky Ford (30-0) in their opener and also played well in last week's loss to Alamosa (32-14).  Monte was in position to spring the upset but then surrendered two pick sixes in the fourth quarter that took them out of the contest.
Coach Manny Wasinger's club created 205 yards with two scores rushing in the loss.  Khegan Hunter scored both TDs and added 71 yards.  DeAngelo Archuleta topped the Pirates with 99 yards.  Offensive balance was provided by QB Colton Mellott who completed six of 12 attempts for 88 yards but also had three interceptions.
The defense limited Alamosa to 130 yards rushing and will be tested again by a physical North Fork running game.  They've been off since picking up 228 yards in the week one win over Center.  The Miners averaged 9.5 yards per carry and have four backs with at least 30 yards.  Mordecai White led the way with 70.
On defense, Carter Neff picked up 10 tackles and Coulson Hollembeak eight including three for loss.
Win or lose this week, North Fork seems to be a safe playoff bet as their Western Slope conference gets two automatic bids.  They'll likely battle Meeker for those two slots.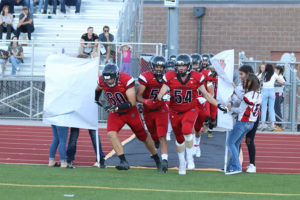 Grand Valley (2-0) and Gunnison (1-0) are two teams hoping to push North Fork and Meeker for one of the two guaranteed playoff berths.  They meet this week in a very early but critical game inside the conference.
The Cardinals have jumped out of the gate strong; scoring 75 points and allowing just 15 in wins over Olathe and Coal Ridge.  The win over Olathe was in non-conference play as the two rivals meet again later in the season.
QB Steven Hicks triggers the Grand Valley offense.  He's thrown for 210 yards with two TDs and also scored three times with 95 yards on the ground.   Five receivers have caught at least two passes as Hicks has done a good job of spreading the ball around.
Emilio Garcia, with 296 yards rushing and four TDs, is the first option in the run game.  The Cardinals defense has also forced five turnovers in eight quarters with Miguel Rojas scooping up a pair of fumbles.
Gunnison had a bye in week one and then survived Del Norte in week two (18-12).  Allowing just 36 yards rushing, the Cowboys played at a high level defensively but are still searching for an offensive leader following the graduation of Nico Marchitelli.  He generated over 11-hundred yards of offense and was involved in 13 scores over just six games a year ago.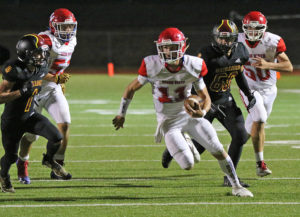 One week after struggling to contain Highland's dual threat QB Sam Hzindil, Bennett faces another talented signal caller in Buena Vista's Hunter Camp.  Camp is just 18 yards of 500 in combined yardage while leading the Demons past Salida (47-0) and Banning Lewis (48-19) in dominating fashion.  Camp has run and thrown for two touchdowns apiece and also has a fifth score on defense through an interception return.
Bennett gave up 148 yards passing and another 77 rushing to Hzindil last week.  The Tigers did generate 178 yards on the ground and will try to boost that number this week; controlling time of possession to keep Camp on defense.
One another note on scheduling, Burlington has had to pull away from their game with Goodland KS this week.  The Cougars were riding high off their win at 2A ranked Lamar last Friday but the school has gone remote learning with all extra-curricular activities postponed through September 17th.
CLASS 1A – TOP 10 SCHEDULE
#1 Limon vs #3 Strasburg
#2 Centauri at Pagosa Springs
#4 Florence vs Weld Central (SAT)
#5 Holyoke at Bridgeport NE
#6 Wray vs Estes Park (SAT)
#7 Buena Vista at Bennett
#8 North Fork at Monte Vista
#9 Wiggins vs Olathe (SAT)
#10 Yuma – BYE WEEK