The pattern of having two to three top 10 matchups where projected playoff teams battle it out continues through week four of Class 1A.  Unbeatens Florence and Holyoke collide in Southern Colorado while Centauri looks to take out an old nemesis as they line up against five-time finalist Strasburg.  Those two games top the schedule as teams wind down their non-league slate this weekend.
FEATURE PHOTO BY TERESA O'DWYER / OT SPORTSCHECK
Maybe the biggest question for Holyoke is if they can at least dent the scoreboard against Florence.  The Huskies, through 12 quarters this season, have not allowed a point while outscoring their opponents by a whopping 167 points.  But Holyoke will provide them with by far their biggest challenge of the young season and the game will prep them for a conference run where they hope to land the championship and secure a first-round playoff game at home.
The Huskies defense has 10 takeaways this year including the recovery of six fumbles.  Six different players have picked up one while Gage Goodall has two interceptions.  Special teams have also been a big boost as Xavier Martinez has already returned three punts for a touchdown.  Jian Aguilar has also scored on a kickoff return.
Aguilar leads the Huskies offense with 192 yards rushing and four carries.  With just 14 carries through three games, the senior should be very fresh for Saturday's showdown.
Holyoke blanked Rye 41-0 in their opener and then worked through 48 minutes in their 27-20 win at Bridgeport NE last Friday.  The offense displayed good balance as they ran for 130 yards and Wyatt Sprague threw for 143 yards.  Sprague is a sophomore and has been moved to the QB spot; replacing older brother and senior Miles Sprague.  Miles is now a weapon on the outside as he's picked up 75 yards rushing and 98 receiving through two games.  This move is not unexpected and may have taken place last year if not for COVID.
Defensively the Dragons must contend with the Florence running game.  Against Bridgeport last week, Holyoke gave up 169 yards on 39 attempts (4.3 per carry).  The longest run allowed was 20 yards.
Even though the game wasn't scheduled until right before the season started, you can bet Centauri quickly circled the week four battle with Strasburg.  Strasburg has ended Centauri's playoff run each of the past four years; winning in the semifinals each of the past three years and also the 2017 state championship game (10-7).  A win on Friday won't equal a playoff victory but it will end years of frustration and give the Falcons a big boost in playoff bracketing.
Strasburg also needs a win to avoid an 1-3 start.   That's noteworthy because the Indians had lost just five games overall since joining the 1A division before the 2016-17 season.  In addition to state championships won in 2016 and 2017, the Indians have also reached the finals each of the past three seasons.
Going into week four, the Indians are still trying to figure out things on offense.  They were blanked by Limon 20-0 in last week's loss to the three-time state champions and have scored just 26 points in three games.  An impressive drive that took up almost the entire fourth quarter pushed them to a 19-16 win over Yuma in week two and that's been their best sequence so far this season.
Despite the 1-2 start, Zach Marrero has had a very good start to his junior season; leading the Indians in both rushing (330) and receiving (71) yardage.  He's also fourth in tackles with 16.  Matthias Brown leads Strasburg there with 27 stops.
Despite outscoring opponents 120-27 this year, the Falcons have been tested already.  That came in their week one win over Wray.  That game was tied at halftime before the Falcons used an interception from Deven Brady to set up a go-ahead score from Mason Claunch.  Claunch then scored again in the fourth quarter to put the game away 28-14.
Claunch has totaled 278 yards and seven touchdowns on just 27 carries this year.  Zach Buhr has caught a team best six passes for 81 yards while Brady Holman and Brady each have a touchdown catch.  Byron Shawcroft has thrown those TD passes while completing 16 of 32 attempts for 271 yards.

Two more non-conference games of note this week find Peyton (2-1) at Buena Vista (3-0) and Yuma (1-1) at Highland (2-1).  We have all four teams in our current 1A bracket and winners will only solidify those chances.
Peyton has won two straight since a big 50-0 setback to Florence in week one.  The Panthers recovered to blank Roaring Fork 32-0 and then used another strong defensive effort to hold off Center 14-8 last week.  They step back up to the top 10 in competition as the Demons enter the game ranked fifth.  They've scored at least 35 points in every game while downing Salida, Banning Lewis and Bennett.
Jacob Phelps broke out for 147 yards on just eight carries against Bennett last week.  He paced the Demons to 288 yards rushing as they averaged nine yards per attempt.  Phelps doubled that mark on his eight carries and reached the end zone twice.
Peyton gave up 148 yards rushing to Roaring Fork but limited Center to 81.  Zak Cobb leads the defensive effort with a team high 38 tackles.  They've also collected five turnovers as Hudson Pufpaff has both an interception and fumble recovery.
Yuma (1-1) had to suffer through a bye week following the disappointing loss to Strasburg in week two.  Now they face a Highland club that is rounding into mid-season form.  The Huskies lost a tough one to Wiggins (38-21) in week one but has taken out Bennett (26-6) and Platte Canyon (42-6) in their last two.
Through three games, Highland has balance with 504 yards rushing and 424 through the air.  Sam Hzindil leads in both with all 424 yards passing and 224 on the ground.  He's been involved in eight touchdowns overall.
Yuma counters with QB Clay Robinson.  The senior does most of his damage in the run game; generating 401 yards on the ground in just two games.  He ran for 242 yards against Burns WY and added another 159 in the loss to Strasburg.
League play starts out west with three games on tap.  A couple could be lopsided as Grand Valley (2-1) is favored at Roaring Fork (0-3) and North Fork (2-0) should get by Olathe (0-3).  On paper, the best pairing finds Meeker at Cedaredge.  Both teams are 1-1 going in.
Meeker's win is in conference action as they rolled Roaring Fork 40-0 last week.  That was a nice bounce back from their opening loss to Limon (43-6).   Cedaredge is also coming off a win as they blanked Coal Ridge 20-0 last week.  Ty Walck finished with 120 yards and two TDs passing and added another 66 on the ground.  Lane Hunsberger led the ground game with 79 yards.
Gunnison takes a break from league play and should get a strong challenge from Dove Creek this week.  The Bulldogs are ranked in eight man again but will step into the 11-man division to face the Cowboys.  Gunnison is coming off an important 17-7 league win over Grand Valley last week.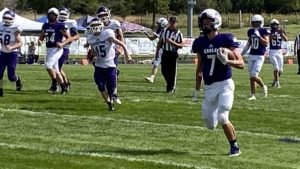 Back to non-league play, Platte Canyon heads to Monte Vista.  Both teams are 1-2 but both remain strong contenders for a playoff berth.  Win or lose this weekend, Platte Canyon will still be in the mix for the Foothills conference championship.  That league has generated just three wins overall thus far so it's wide open at this point.  Monte Vista may have to battle with Ignacio (3-0) for the runner-up spot behind Centauri in the Southern Peaks and that league should get two bids.
A late addition to the schedule finds long-time rivals Wray and Burlington gearing up for the first of two matchups this season.  They also meet in the season finale and game two will count as the North Central league contest.  Wray was scheduled to play Jefferson this week but the Saints went into quarantine.  Burlington missed a game against Goodland KS last week due to COVID but can return this week and will host the Eagles at six o'clock on Saturday.
Wray rolled Estes Park 55-6 last Saturday while Burlington hopes they haven't lost momentum from a week two win over then 9th ranked Lamar (2A).
Top ranked Limon looks to avoid a letdown following the Strasburg shutout as they go to Bennett.  9th ranked Wiggins, which easily took out Olathe in week three, enjoys a bye week.  Both the Badgers and Tigers embark on the rugged North Central league schedule next week.
CLASS 1A – TOP 10 SCHEDULE
#1 Limon at Bennett
#2 Centauri at #6 Strasburg
#3 Florence vs #4 Holyoke (SAT)
#5 Buena Vista vs Peyton
#7 Wray at Burlington (SAT)
#8 North Fork vs Olathe
#9 Wiggins – BYE WEEK
#10 Highland vs Yuma