Meeker became the first Class 1A team to earn a playoff bid as last week's win over Gunnison earned them the Western Slope championship.  Up to four other clubs can join them this week as the 1A schedule enters the final two weeks of the regular season.
PHOTO BY TERESA O"DWYER
Three of the teams should be decided with results of head-to-head matchups and none is bigger than the battle between Florence (7-0) and Buena Vista (8-0).  Both teams are headed to the playoffs as the Demons are ranked third and the Huskies sixth in RPI but the winner gains the goal of landing the Tri Peaks league championship.
Florence is in the discussion for the most dominant team in Colorado this year.  They've outscored seven opponents 364-15 with six shutouts.  Holyoke is the only team to score on the Huskies this year and they still came up short 36-15.
The offense numbers are mind-boggling.  The Huskies have over 360 points but have run just 215 offensive plays in their seven games.  Much of the reason is special teams as the Huskies have returned six kicks for touchdowns.  Those big plays limit the number of offensive snaps throughout the season.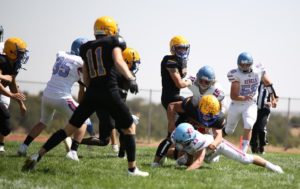 The running game generates 212 yards on less than 20 attempts per game.  Jian Aguilar has 661 yards and Jacob Kennedy 505 and together have combined for 18 touchdowns.  And while the Huskies have always been able to run the football, QB Levi Paxton has added the threat of throwing the football with 587 yards and another 13 scores.  Top targets include Josiah Cornwell and Luguse Nuss with each scoring four touchdowns.
The defense has created 19 turnovers with 68 tackles behind the line of scrimmage.  Lincoln Nix has 82 tackles and Ryan Howard 60.  Cornwell has eight sacks and Gage Goodall four interceptions.
Buena Vista has outscored opponents 294-87 and has probably played a stronger schedule overall.  Two of their wins are against Meeker and North Fork from the Western Slope.  The Cowboys, as mentioned, have already clinched a playoff berth and the Miners should join them as they sit 11th in RPI and have a big game with Gunnison in week 10.  Another win is against Banning Lewis (4-2) who seeks a playoff berth this week as well.
The Demons may try to run the football and keep the high-powered Florence off the field.  They've scored 26 touchdowns on the ground with 13 coming from Jacob Phelps.  He has 517 yards which is second to Hayden Camp who leads the team with 719 yards.  The QB has also thrown for 616 yards and four additional scores.  Many of his completions go to Phelps (16 catches) or Tucker Storms (15).
On defense, the Demons have 35 tackles for loss and 14 turnovers forced.  Phelps has three interceptions.  Elijah Evans has 6t1 tackles, Seth Moss 48 and Ethan Flavin 42.  The defense has two scores but the special teams have not cracked the goal line.
While Florence and Buena Vista are both playoff-bound regardless of outcome, the same cannot be said for matchups between Bennett-Platte Canyon and Banning Lewis-Peyton.  All four are unbeaten in league play but only Bennett is in the top 16 of RPI (#16) so winning a conference crown may be their only route to the postseason.
The Bennett-Platte Canyon contest will likely decide the Foothills title.  Bennett actually clinches with a win while Platte Canyon can only clinch with a win if third place Manual is upset by Clear Creek (1-5).  The Huskies meet Manual in week 10.
This matchup should be quick as both teams prefer to run the football.  Bennett averages 159 yards per game on the ground and Platte Canyon 191.  The teams combined for just one non-conference win but are both 3-0 against conference teams.

Bennett rushed for a season high 322 yards in a win over Clear Creek and added another 240 against Manual.  They scored 11 touchdowns in those two wins.  Isaak Copeland leads the team with 255 yards while Carson Hawkins has added six touchdowns.  Defensively, they've forced eight turnovers including seven fumble recoveries.
Platte Canyon is 27th in RPI so they're in a must win situation if they want to reach the playoffs.  They've allowed just six points in three conference wins including last week's 22-0 shutout of Clear Creek.  Allen Hardey tops the Huskies with 376 yards with Jacob Romero next with 315.  Both have scored four times.
Peyton is 18th in RPI and Banning Lewis 19th so again it's highly likely only the winner earns a spot in the 1A playoffs.  The winner clinches a berth as a Santa Fe league champion.  Both have beaten Rocky Ford for their conference play and the results were very similar.  Peyton won 44-6 last week and Banning Lewis 41-0 two weeks ago.
For Peyton to win, they will need to run the football and get yardage from the tandem of West Hart and Dresden Howeth.  Those two combined have for 1,048 yards and 12 touchdowns this year with Hart rollnig for 154 and Howeth 101 against Rocky Ford.  They each scored twice as well.
Defensively, the key is Zak Cobb.  He easily leads the Panthers in tackles with 86; which is 50 more than the next Panther.  He helped Peyton surrender just 134 totals in the Rocky Ford win.
Banning Lewis ran for 249 yards against Rocky Ford as Kaden Levi collected 156 yards and two scores.  He also threw for 97 yards and a third touchdown.  The Stallions defense has allowed just six points in their four wins including shutouts against Del Norte, Prospect Ridge and Denver West.
Limon is the fourth team that can earn a trip to the playoffs as the three-time defending state champs earn the North Central title by beating Holyoke.  It's the continuance of a tough schedule for the Badgers who have already beaten at least four playoff teams and possibly six as Bennett and Burlington could also get in.  They've outscored that schedule 288-30 on the season.
Much of their success is based on the ability to run the football.  The Badgers have totaled at least 300 yards in five of seven games with a season low of 252 coming in the win over Strasburg.  They've scored at least five touchdowns on the ground in all but one game.  The total was 315 yards and five scores in last week's 41-0 shutout of Wray.
Trey Hines had maybe his best game of the season as the quarterback ran for 74 yards and also completed all seven passes for 130 yards and a touchdown to Brady Rockwell.  Jeremiah Leeper topped the rushing charts with 107 yards and Gabe Schubarth added 97.
Holyoke bounced back from a loss to Wray 28-11 two weeks ago by downing Wiggins 41-26 last week.  That win kept them in the league title chase as an upset of Limon this week could create a three-way with Wray if the Eagles beat Yuma.  If Holyoke and Yuma win this week, then the Dragons take over the top spot based on a head-to-head win over Limon.
The Dragons ran the ball much better against Wiggins.  They were held to 112 yards versus Wray but generated 225 and three scores against the Tigers.  Miles Sprague had 103 yards and a touchdown while Tyson Mosenteen and Cash Weber also reached the end zone.  Weber and Sprague also caught a TD pass from Wyatt Sprague.  Defense is still a concern as they allowed 198 yards on the ground and 281 passing last week.
The Harvest Cup between Wray and Yuma is very important this year as the Eagles are 4th in RPI and the Indians 13th.  Wray is trying to nail down a home game in the round one of the playoffs while Yuma is simply trying to qualify.  They stayed alive by stunning Burlington 10-9 last week.  Alex Lozano booted a 40 yard field goal in the final minute for the game winning points.  That kick helped the Indians end a two-game slide.
Wray looks to rebound from the Limon loss.  They've won 13 of the last 17 against Yuma including a 27-0 shutout last year.  Only three of the 17 games have been decided by single digits with the last close game coming in 2018 (20-12).

Burlington was 15th in RPI before last week's loss dropped them to 21st so they may need an upset of Wiggins to keep their playoff hopes alive.  Wiggins is 7th in RPI and like Wray trying to stay within range of hosting a first round playoff game.
Centauri has lost another game as Ignacio has forfeited the league matchup.  The Falcons found a game with Northfield at mid-week last week and scored a nice win over the 2A Nighthawks but will not try to find an opponent this time around.  The forfeit moves the Falcons to 2-0 in league play and now they will face off with Monte Vista in the final week.  And if Monte Vista beats Center this week, that outcome will determine first and second in the Southern Peaks once again.
Monte Vista has won four straight and is unbeaten in league play.  Center is 2-1 and has beaten Ignacio and Del Norte in back-to-back weeks.
Strasburg (2-0) continues to lead the Northern race by one game over Highland and Flatirons Academy (1-1).  The Indians have beaten Highland and will face Flatirons Academy in week 10.  Up this week is a home game with Estes Park.
Highland has the edge on second as they knocked out Flatirons Academy in their direct contest.  The Huskies go to Prospect Ridge this week while the Bison enjoy their bye week.
Kelton Turner ran for 131 yards and two touchdowns in Meeker's big victory at Gunnison last week but the Cowboys threw the ball a bit more than in the recent past.  Connor Blunt completed three of five passes for 68 yards and a score.  Liam Denning also connected with Trindin Powell on a 25-yard scoring pass.
Gunnison and North Fork are both 3-1 and will play in week ten to determine second and third.  The top two teams earn an automatic bid so it's an important contest.  Gunnison is 10th in RPI and visits Roaring Fork this week; North Fork is 11th and is favored against Cedaredge.