Heading into Week 3 of the 2021 football season, most – if not all – teams have gotten onto the field at least once. That means that the games will get more interesting every week from here on out.
Every week, Colorado Preps takes a look at some of the key games to watch across every classification. Below are the five games in Class 2A that we have highlighted for Week 3 of the regular season.
Through the weekend, scores and updates can be found at coloradopreps.com.
FEATURE PHOTO PROVIDED BY DEE RANGEL / EAST OTERO SCHOOL DISTRICT
ELIZABETH PHOTO PROVIDED BY LAURIE KOHRING
Severance at Platte Valley, 7 p.m. Thurs.
Platte Valley didn't score a lot of points in their season opener, but the good news is they didn't have to. The defense held up their end of the bargain as the Broncos beat Strasburg 18-7, getting the season off to a good start. But they'll have to be better as Severance continues its rise up the 2A ranks. This will be a big clash between two teams ranked in the top 10 of the CHSAANow.com coaches poll and Severance has shown no sign of slowing down early this season. In two games, the team has rushed for over 330 yards with Colby Runner taking charge with 72 yards and a touchdown. The Silver Knights are also scoring defensively with Reece Gazdik and Trevin Hull each accounting for a pick-6.
Basalt at Faith Christian, 7 p.m. Friday
Basalt heads into Week 3 undefeated after a thrilling 40-34 double-overtime win over Battle Mountain. The Longhorns have been steady on the ground and taken to the air when they've needed to. Kade Schneider has thrown for 177 yards and five touchdowns while Cooper Crawford leads the rushing attack with 160 yards and a touchdown. Dylan Madden has been a nightmare for opposing quarterbacks as he's picked off two passes already this season. Faith Christian turned heads with its 42-0 win over Prospect Ridge Academy. Cody Connor completed 6 of 12 passes for 213 yards and three touchdowns and will try to get the Eagles on the board fast against Basalt.
Alamosa at La Junta, 7 p.m. Friday
La Junta bounced back from a tough loss to Pueblo County to run away from Pagosa Springs 46-0. The Tigers have established themselves as a run-first offense in order to take the pressure off sophomore quarterback Luke Garner. Anthony Torrez has done the heavy lifting on the ground with 102 yards and a touchdown. The Mean Moose are a tad different in the sense that they have no problem taking to the air. Quarterback Kasey Jones has completed 61% of his passes for 434 yards and a pair of touchdowns. Kade Jones has proven to be a ball hawk on both sides of the ball, leading the team in receptions (14) and interceptions (2).
NOTE:  This game has been moved to Pueblo County HS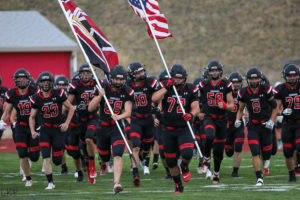 Eaton at Elizabeth, 7 p.m. Friday
The defending 2A champion made a big statement with a 63-0 win over Sterling to start the season. As a result, the Reds climbed to the top spot of the 2A CHSAANow.com football polls and unless they pick up a loss they should remain there through the rest of the regular season. Ethan Florez was dominant on the ground, running for 92 yards on 10 carries with two touchdowns. Elizabeth looked strong in its first two games of the season, both of which they won. Cooper Connelley is averaging 6.6 yards per carry and scored a pair of touchdowns. He has also hauled in one of the team's two interceptions.
Palisade at Delta, 7 p.m. Friday
Delta has yet to allow its opponents to score a point and is 2-0 on the young season. Nathan Scharnhorst has kept the offensive attack balanced and has done a good job relying on running back Timothy Horn who has rushed for 249 yards and two touchdowns. The defense has been the star of this team, however as it has already picked off six passes and recovered three fumbles. Palisade enters the game as the No. 10 team in 3A. The Bulldogs have rushed for 659 yards on the season with Pallen Salvati accounting for 282 of them.
CLASS 2A – TOP 10 SCHEDULE
#1 Eaton at Elizabeth
#2 Resurrection Christian – BYE WEEK
#3 Classical Academy vs Harrison
#4 Delta vs #10 Palisade (3A)
#5 Platte Valley vs #7 Severance (THURS)
#6 Basalt at Faith Christian
#8 University at Valley
#9 Moffat County vs Rawlins WY
#10 Rifle at Lincoln (SAT)