With only one game decided by single digits, the opening round of the 3A football playoffs lacked end of game excitement but that's expected to change as the top eight seeds battle in the state quarterfinals this Saturday.  The top four seeds host the matchups with each game kicking off at 1:00pm.
FEATURE PHOTO PROVIDED BY BRENT MURPHY / BRENTMURPHYPHOTO.COM
#8 HOLY FAMILY (7-4) AT #1 ROOSEVELT (11-0)
The Tigers are looking for a much better showing than in the regular season matchup where Roosevelt picked up an easy 49-7 victory.  It was the season opener for the Riders and they've used momentum for that win to enter the quarterfinals unbeaten on the season.
The offense was dominant as the Riders chewed up 343 yards rushing and QB Brock Saya added 187 yards and four touchdowns through the air.  Xavier Ramirez led the running game with 92 yards while Tucker Peterson latched onto two touchdown passes.  On defense, the Riders also created four turnovers with Jayden Botterill collecting 10 tackles and Jaden Casaneuva seven.
Roosevelt bounced Thomas Jefferson 56-15 in the playoffs last week; marking the fourth game this season they're scored at least 50 points.  Ryan Doucette rushed for 140 yards and Ramirez scored twice while Saya finished with three touchdowns on just six completions.  Botterill had two interceptions and the Riders also recovered three fumbles bringing their season turnover total to 34.
Holy Family finished the regular season with a tough 49-30 loss to Fort Morgan but righted the ship last week in downing Pueblo South 34-18 in their playoff opener.  That game was also a rematch of a regular season game.  Jacob Lawver totaled a season high 218 yards with three touchdowns in the win while QB Rylan Cooney added another 147 yards on just five completions including a 65-yard TD pass o Dillon Dahlgren.  The defense also played a high level; limiting the Colts to just 72 yards rushing.
PLAYOFF HISTORY: The two clubs have met once previously in the playoffs with Holy Family getting a 21-19 quarterfinal win.  That came in the 2A bracket.  Both teams were semifinalists a year ago with the Tigers falling to Durango and Roosevelt beating Pueblo South.  Holy Family has two state championships but is seeking their first in the 3A division.  Roosevelt has never won a state football crown as their runner-up finish a year ago was the third in school history (2015, 2000).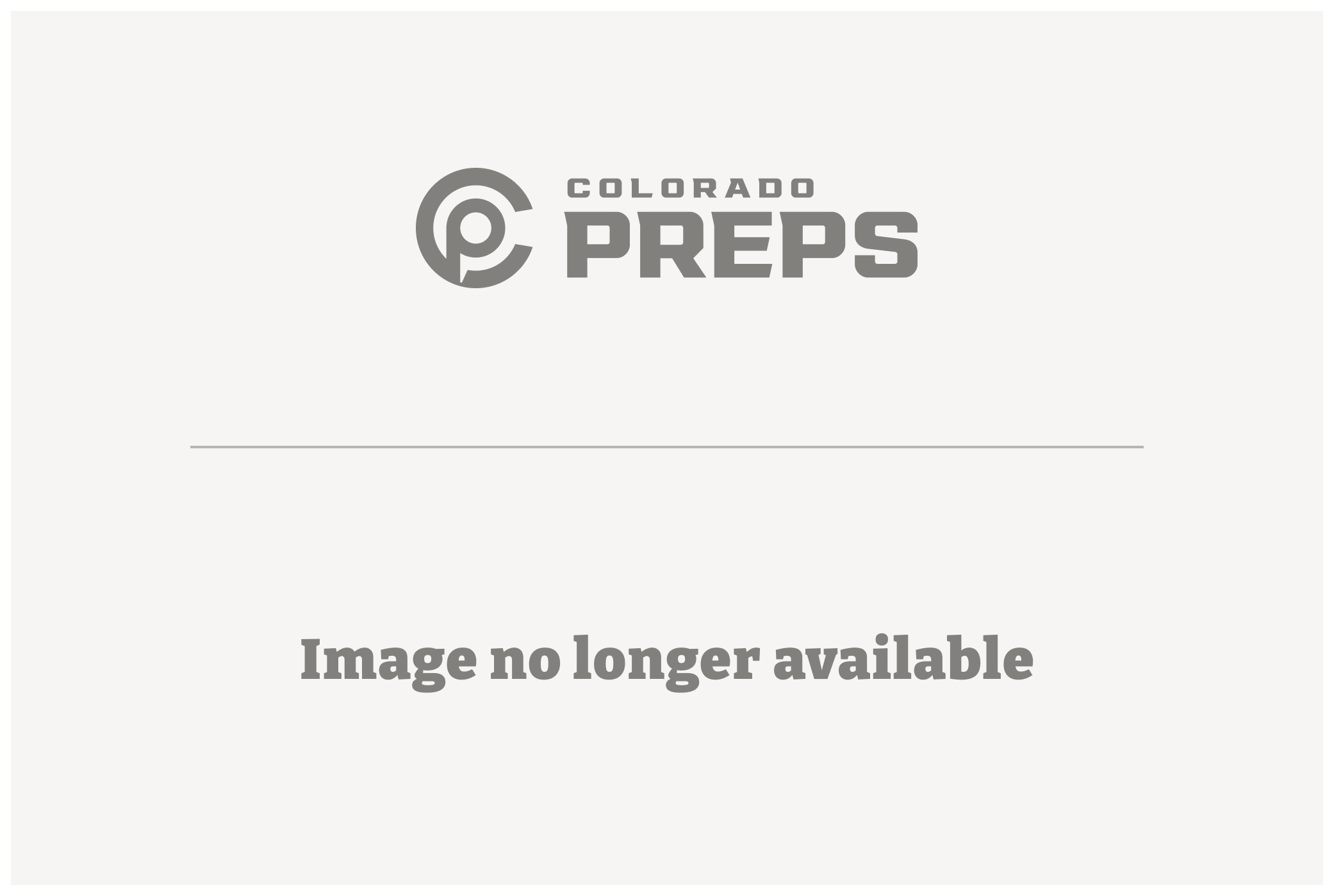 #5 MEAD (8-2) AT #4 DURANGO (9-2)
The Mavericks were involved in the one game decided by single digits last week as they survived Northridge 21-20.  Trailing midway through the third quarter, Mead scored what turned out to be the game winning touchdown on a 27-yard halfback pass from Evan Morris to Corby Tecu.  After Jeremiah Strizki recorded a sack to end the Grizzlies next drive, Mead then ran out the final seven minutes of the game to score the one-point victory.
Strizki ended the game with a dozen tackles to tie Christian Ayers for the team lead.  In addition to the touchdown pass, Morris led the ground game with 139 yards and a touchdown.  QB Gavin Garrettson completed just three of 10 attempts for 22 yards but one to Will Tenore for a key score.
Now the Mavericks get on the bus for the long trip to Durango and a date with a red-hot Demons team.  The defending state champions drilled Evergreen 56-3 in their playoff opener; creating a running-clock by halftime courtesy of the 45-3 lead.  The Demons exploded for 28 second quarter points to take complete control.
One key play in that run was an interception return for touchdown by Chase Robertson.  Zach Haber also had four touchdowns and led the offense with 195 yards rushing.
Durango have won seven straight games and outscored 3A opponents 268-3 this year.  That includes a 2-0 forfeit win over Mitchell.  Their lone in-state loss is against Class 4A #1 seed and unbeaten Montrose.
PLAYOFF HISTORY: Durango's state championship run last Fall marked their first semifinal appearance since 1997 and a win this week gets them there for a second straight year.  Mead has one semifinal appearance since the school reopened (2016).  This is the first-ever playoff meeting between the two schools.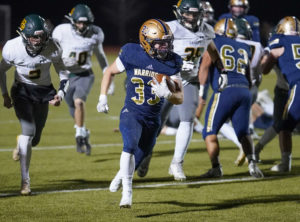 #6 FREDERICK (9-1) AT #3 FORT MORGAN (9-1)
It's only fitting that the Warriors and Mustangs match up in the playoffs.  They were scheduled to meet in week three of the regular season but the game was not played due to COVID concerns with the Frederick camp.  The "rematch" is now much more important as the winner advances to the 3A Final Four.
Fort Morgan moved past Green Mountain 14-0 last week; earning their first shutout since blanking Thompson Valley 40-0 in the 2019 season.  The defense made stops in the red zone but endured two long run-dominated drives by the Rams that limited their own offensive chances.  Frank Ortega and Fernando Marquez both intercepted passes to keep the Rams out of the end zone.
Now that group faces a Frederick offense that also wants to run the football but likely features more big-play threats that can score from anywhere on the field.  In last week's 42-7 playoff win over Pueblo County, the Warriors totaled 371 yards rushing including 133 yards and three touchdowns from Parker Ayers.  Cruz Zamudio added 102 with a touchdown while River Lakey (69) and Bryce Conover (64) combined for another 133 yards.  They've scored at least 40 points in each of their last three games and eight times overall.
Because Green Mountain controlled the clock, Fort Morgan ran just 39 offensive plays last week but still managed 182 yards including 142 on the ground.  Ortega had the most yards (104) with Brayden Fajardo and Briggs Wheatly getting into the end zone.  It just was the second time all season, the Mustangs have not scored at least 20 points in a game.  The other came in the 14-7 loss to top ranked Roosevelt.
Schedule strength though favors Fort Morgan.  Including last week, the Mustangs have faced six playoff teams with five wins.  Again, the lone loss to Roosevelt.  Frederick has three such games with wins coming against Mead and Pueblo County and an overtime loss to Holy Family (42-35).
PLAYOFF HISTORY: This is the first-ever postseason meeting between the Mustangs and Warriors.  Fort Morgan's win last week was their first since 2016 and another this week puts them into the semifinals for the first time since going back-to-back in 2014 and 2015.  Frederick missed the playoffs last season but was a Final Four club in 2019 with a narrow 28-24 overtime loss to Pueblo South keeping them from their first state championship game appearance.
#7 PALISADE (9-2) AT #2 LUTHERAN (11-0)
Strategy wise, it's not very difficult to figure this one.  Palisade must run the football and dominate time of possession to limit the opportunities for the high-powered Lutheran offense.  For the Lions, their trend of getting out to a quick 14-0 or 21-0 lead will put Palisade in a tough spot as their offense is not built to come from that far down.
Palisade had a similar game with Summit to open conference play last month.  The Bulldogs trailed much of the game and gave up 284 yards passing, but the physical running game eventually wore down the Tigers defense on the way to a 29-26 decision.  Palisade had two running backs gain at least 100 yards and they finished with 313 yards and four touchdowns overall.
Lutheran though is a much better ballclub.  They've outscored opponents 577-81 and won every in-state game by at least 34 points.  That list includes a 49-7 first round win over Discovery Canyon last week.  Clayton Jacobs was the offensive leader as he was involved in four touchdowns with 309 yards of total offense.  Six different receivers caught either three or four passes in the win with Ryan Kenny, Joseph Ciccio and Ryan Allen all reaching the end zone.  The defense also forced three turnovers including both a fumble recovery and interception by Trey Ciccio.  Dorian Pachecho finished with 10 tackles; Kenny and David Bond each had nine.
Palisade dominated on the ground in last week's 35-21 win over Pueblo East.  The Bulldogs ran the ball a whopping 62 times for a total of 347 yards.  They attempted just one pass.  Franklin Barks led the team with 113 yards but there was plenty of depth from Malakhi Espinosa (83) and Phallen Salvati (82).  All three scored a touchdown.  Rhett Ward provided two touchdowns and also picked up 69 yards.
PLAYOFF HISTORY: Palisade has beaten Lutheran twice in the playoffs with the wins coming in back-to-back years (2014 & 2013).  Both were narrow victories as the Bulldogs won 35-28 in 2013 and then 28-24 the following season.  They are the only two playoff meetings between the teams.  Palisade's last semifinal trip came in 2018 where they lost to Palmer Ridge.  They also reached the Final Four in 2017.  Lutheran's win last week was their first in the playoffs as a 3A club and first overall since 2011.  They've not been to the semifinals since 1999 in Class 2A.