The old saying that defense wins championship may not ring true in Class 3A this year as prolific offenses have carried both #1 Roosevelt and #2 Lutheran into the state semifinals and to one win away from matching up in the state championship.  Standing in their way are #5 Mead and #3 Fort Morgan as the Mavericks and Mustangs also have plans to be in Pueblo for the finals next week.
Roosevelt has scored 562 points in 12 games this year and have been over 40 points ten times.  One of the exceptions came in the regular season meeting with Mead where they moved past the Mavericks 37-7.  Mead actually led the game 7-0 midway through the second quarter before the Riders scored the final 37 points on their way to victory.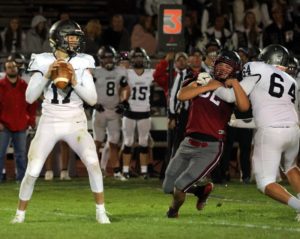 Brock Saya was nearly perfect in that win; completing 17 of 21 passes for 271 yards and three touchdowns.  Those scoring passes went to Jaden Herrera, Mateo Leal and Tucker Peterson.  Peterson (6) topped the team in receiving and with Keaton Kaiser (5) combined for 11 catches and 185 yards.
Saya has continued that accuracy in the playoffs; hitting 24 of 37 attempts in wins over Thomas Jefferson (56-15) and Holy Family (51-33).  He's thrown for 404 yards with five touchdowns over those games with Tucker Peterson catching nine balls for 210 yards and four scores.  The Riders run game has also been clicking with Ryan Doucette picking up 140 yards against Thomas Jefferson and Xavier Ramirez getting 130 vs Holy Family last week.  Ramirez has three playoff scores and Cooper Walton hit paydirt twice in the quarterfinals.
Trying to at least slow down the Riders offense is a Mead defense that's recorded 44 tackles for loss and 23 sacks but created only 14 turnovers.  Jeremiah Strizki, with 98 tackles, paces the defense and that group will need a solid effort for the Mavericks to reach their first-ever state championship game since the school reopened.
On offense, the Mavericks average 33 points a game and during the playoffs have focused on running the football in beating Northridge (21-20) and Durango (14-13).  They totaled 256 yards vs Northridge and added another 259 in the quality road win at Durango last week.  The ground game has also put away the two playoff wins as the Mavericks have twice run off at least seven minutes of the clock in the fourth quarter holding a one point lead.
Evan Morris has been over 120 yards in both wins with 259 thus far in the postseason.  Morris also tossed a TD pass to Corby Tecu in the opening win over Northridge.
Gavin Garrettson enters the semifinals with 1,454 yards and 20 TDs passing on the season but hasn't been called upon to throw the football that much in the playoffs.  He's connected on five of 19 passes but ran for 89 yards against Durango last week and then connected on a key TD pass to Will Tenore against Northridge.
Roosevelt's defense has allowed just 94 points this season.  They've surrendered 609 yards of offense in the postseason but also picked off two passes and made seven tackles for loss against Holy Family last week.  Walton had 10 tackles and Kaiser eight against Thomas Jefferson in round one.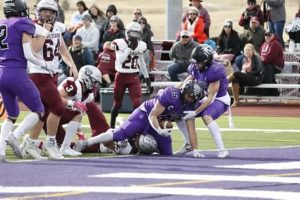 Lutheran's offensive numbers are eye popping even if they were playing in the wide open six-man division.  The Lions have already scored a whopping 91 touchdowns this year with 627 points overall.  Their defense has allowed only 88 so they're winning games by an average of 45 points.  Both playoff wins over Discovery Canyon and Palisade finished with identical 49-7 scores with the Lions exploding for 42 points in the first quarter against Palisade last week.
If the Lions win the state title, then Clayton Jacobs will be the player of the year in the division.  Through 12 games, the quarterback has been involved in 46 touchdowns with 29 coming through the air and 17 on the ground.  He's thrown for 2,171 yards and needs just 113 to go over 1,000 on the ground (887).
There are many weapons on the outside as ten players caught at least one pass against Palisade last week.  Bryce Johnson actually led the Lions with two receptions for 97 yards and both went for touchdowns.  Johnson has seven scoring receptions on the season and is tied with Joe Ciccio for the team lead.  Ryan Allen, with six, is next on the list and he also tops the stat sheets with 29 catches for 523 yards overall.
The ground game is also in good hands with Ryan Kenny (717 yards) and Dorian Pacheco (670).  They've combined for 24 touchdowns.
With the high powered offense and early 20 point advantages, the Lions defense can and has been aggressive throughout the season.  They've forced 30 turnovers and picked up 120 tackles for loss including 28 sacks.
With all those numbers in mind, Fort Morgan will likely have to score quite a few points to gain the semifinal win.  The Mustangs have that ability as they average 32 points for the season but has not reached that number in either playoff win.  They moved past Green Mountain 14-0 in the opening and then held off Frederick 21-14 in the quarterfinals last week.  And while the offense has not been clicking on all cylinders, the Mustangs have also faced two run dominated offenses that have controlled time of possession.  That won't be the issue this week as the Lions look to snap the ball between 10-15 seconds after the play ends.
Briggs Wheatley directs the Fort Morgan and the quarterback has had a tremendous senior season with 1,701 yards passing and 667 on the ground.  He's thrown for 15 TDs and run for another 13.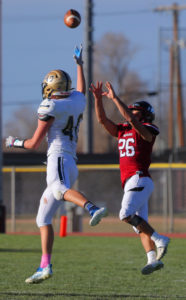 Like Jacobs with Lutheran, he also has several weapons that can do damage in the open field.  Frank Ortega, with 760 yards and seven touchdowns, is the top rusher but has also caught 24 passes for 720 yards and another nine scores.  Fernando Marquez has 38 receptions for 536 yards and two scores and Brayden Fajardo has four touchdowns from his 22 catches and 315 yards.  Fajardo is also factor in special teams with three touchdowns kick returns this season.
Defensively, the Mustangs have given up 173 points on the season but has played well against high level competition.  They kept Roosevelt out of the end zone until midway through the fourth quarter in a 14-7 loss to the top ranked Riders.  They also limited 2A finalist Brush to just 12 points early in the season and of course posted the playoff shutout of Green Mountain two weeks ago.
Both semifinals are the first-ever playoff matchups between the two clubs.  A Roosevelt win gets them back to the championship game for the second straight year as they fell to Durango last November.  They've never won a state football crown.
Mead won the six-man championship in 1949 and is in the playoffs for a seventh straight year.  This is their first visit to the final four since 2016 when they lost to eventual champion Pueblo East 28-21.
Fort Morgan is in the semifinals for the first time since 2015.  They also lost to Pueblo East 28-7 that season.  Their last state championship came in 1999 when future NFL Tight End Joel Dreesen was a senior.
Lutheran last reached the semifinals in 1999 and also appeared in 1985.  They came up short both times so a win on Saturday pushes them into their first-ever state championship game.
Both contests kickoff at 1:00pm this Saturday with Mead and Lutheran playing at home.  Winners advance to the championship game on December 4th in Pueblo.  That game will also start at 1:00pm.