Class 3A football consists of seven conferences and five of them feature a game this week pitting a week one winner against another.  Winners keep a share of first place in their respective league and boost their chances of landing a playoff spot in early November.
FEATURE PHOTO PROVIDED BY KERRI ELAM / SUMMIT HS
STORY PHOTO PROVIDED BY RIVERDALE RIDGE HS
Leading us off is the nice battle between Holy Family (4-2) and Frederick (5-0) inside the North Central 2.  The Tigers opened play with a physical 20-7 win over Thompson Valley while the Warriors had an easy time with Skyview 55-22.  They scored all their points by halftime so their first unit is well rested for this week's battle with the Tigers.
Because of their many blowouts, Frederick has not been forced to throw the football much and plus they have a tremendous running game.  It churned out 398 yards against Skyview last week including 154 yards and three touchdowns from Parker Ayres.  River Lakey added another 79 and a score and three others also reached the end zone.  The defense also got into the scoring act as Lafai Purcell returned an interception for six.
Holy Family meantime was nearly perfect in offensive balance; totaling 207 yards passing and 197 on the ground against Thompson Valley.  Rylan Clooney hit 10 of 15 passes for 164 yards and freshman Monte Samaras also threw for 43 yards.  Both had a touchdown pass in the win.  Those tosses went to Dillion Dahlgran and Dominic Mazzula.  Mazzula finished with 10 receptions for 158 yards.
On the ground, Jacob Lawver led the charge with 76 yards and Chase McNaughton added 64.  Clooney also chipped in 57.
Mead will also challenge for the league championship.  The Mavericks were outside conference play last week and fell to top ranked Roosevelt 37-7.  They should rebound against Skyview this week and then prep for a big showdown with Holy Family in week nine.
Discovery Canyon (3-3) and Durango (4-2) may be playing for the Southern 1 championship this week.  Another league member Sand Creek is 3-3 with the remaining three teams a combined 1-16 so this one is likely for the title; especially since Discovery Canyon easily handled Sand Creek 52-8 last week.  That win snapped a three-game skid for the Thunder who now try to take out the defending state champions from last Fall.
Durango blew by Harrison 42-0 in their league opener last week as Zach Haber ran for two scores and Tyler Harris threw for two more.  The Demons defense has allowed just seven points in four wins and last week was the third win by shutout.  They forced three turnovers; an interception by Ean Goodwin and fumble recoveries by Luke Wesley and Haber.
Two young clubs meet for a key game inside the Southern 2 division as rosters for both Pueblo Central (4-2) and Pueblo East (3-3) are filled with freshman and sophomores and many contribute.  Central picked up a third straight win last week; blanking Pueblo Centennial 42-0 in the annual Bell Game.  First year player Amaria Brown ran for 110 yards on 19 carries while senior Andrew Sherman scored three times and also tossed a 77-yard TD pass to sophomore Kaden Clay.  On defense, sophomore Jose Barela intercepted two passes and classmate Michael Montoya paced the Wildcats with 10 tackles.  Freshman Genaro Pino contributed eight.
Pueblo East edged Pueblo County 13-7 as they earned a third win in the past four games.  Freshman QB Zayden Stevens connected on 10 of 17 passes for 91 yards and a touchdown.  He added 28 yards and another score on the ground.  Brandon Atencio topped the rushing charts with 57 yards; he's a senior.
The Eagles have won 11 straight in the series including a 26-12 decision during Covid.  Central last won in 2009; beating the Eagles 29-0.
Pueblo South is the third Southern 2 team at 1-0 as they earned a forfeit over Canon City.  The Colts get on the field against Pueblo Centennial this week.  They're favored there but then face East and Central in back-to-back games.
Palisade (4-2) and Summit (4-2) are both 1-0 and tied with Steamboat Springs atop the Central West.  Both were winners in week one of league play.  Palisade came from 10-7 down at halftime to knock off Battle Mountain 28-17 while Summit blistered Glenwood Springs 41-0.  Tigers QB Jack Schierholz (pictured above) threw for 287 yards and three TDs on just 11 completions and has now reached at least 200 yards in four games this season.  He sits at 1,138 yards and 12 touchdowns for the season.
Three different receivers caught a TD pass in the win including Aidan Collins who finished with four catches for 89 yards.  He also rushed for 42 yards.  Phillip Berezinksi latched onto three passes for 107 yards and Jack Hodge caught two passes for 61 yards.  Keaton Smith registered eight tackles in the shutout win with Hodge and Collins each adding seven.
Now the Tigers defense faces the physical Palisade running game which generated 330 yards in the win over Battle Mountain.  Phallen Salvati led the team with 134 and Malkhi Espinoza went for 116.  Both scored twice.  Kevin Sjorgen (12) and Rhett Ward (11) combined for 23 stops defensively.
The teams have played conference matchups since 2014 with Palisade winning all six previous meetings.  Every win has come by at least 29 points and the Bulldogs defense has allowed more than seven points only once (2017).
Steamboat Springs (5-1) pulled off an exciting 31-30 win over Eagle Valley as Charlie Riesman booted through a 35 yard goal in the closing moments for the game winning points.  Those points gave the Sailors their most wins in a season since reaching the state championship game in 2009.  Jake Hamric threw for 314 yards and two TDs while completing 23 of 38 attempts.  They host Glenwood Springs this week and then tangle with Palisade.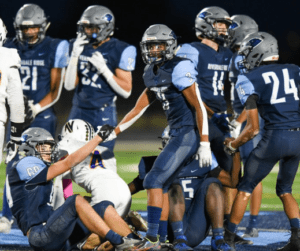 Riverdale Ridge (2-3) lines up with George Washington (4-2) inside the Denver Prep league and it may be the most important game in the short history of the Ravens program.  And they picked a good time for it as they created a school record 615 yards of offense in last week's 45-20 win over Denver North.   They threw for 345 yards and ran for 270.  QB Nate Bishop hit 20 of 26 passes including five touchdowns; three of which went to RJ Holiday who finished with five catches for 175 yards.  The remaining two went to Kameron Lewis who caught nine passes for 106.  Ethan Jones paced the ground game with 119 yards and Caiden Harding was next with 89.
The Ravens look to keep that high powered offense in gear against a GW team that is coming off a 67 point explosion in their win over Lincoln.  So if both offenses are in sync, we could see quite a few points in this one.  The Patriots tallied 26 first quarter points against Lincoln and 21 more in the second.  The Lancers had just 24 offensive snaps through the entire game.
The winner should be tied with Thomas Jefferson for the conference lead at week's end.  The Spartans downed Kennedy 55-24 last week and meet Lincoln this weekend.  The expected victory will give the defending spring state champions their first two-game winning streak of the season.
The Roosevelt (6-0) and Northridge (5-1) pairing inside the North Central 3 division is not a battle of league winners from last week but it's a still a very important game in the conference chase.  Northridge opened their league run by blanking Mountain View 13-0; gaining their first shutout win since beating Niwot 34-0 in 2014.  Roosevelt did not have a conference game last week but as mentioned, the top ranked Riders were impressive in downing then 2nd ranked Mead 37-7.
Brock Saya played a major role in the win as the senior QB missed on only four of 21 pass attempts and finished with 271 yards and three touchdowns.  He also contributed 59 yards and a fourth score on the ground.  Jaden Herrera, Mateo Leal and Tucker Peterson caught the scoring passes and Xavier Ramirez also reached the end zone on the ground.  The defense forced four turnovers.
The Roughriders also face Fort Morgan next week so this is the key stretch for them as they look to grab the league championship.  Fort Morgan blitzed Niwot 52-27 last week to win their league opener.  They'll try to avoid looking ahead to Roosevelt as they line up against Mountain View.  It will be difficult as the Mustangs lost to Roosevelt 17-16 in the state quarterfinals last Fall.
The North Central 1 conference is the only 3A league where none of the first week winners face off.  Lutheran, Green Mountain and Conifer all posted wins last week with Evergreen, Littleton and Lewis Palmer coming up short.  This week, Lutheran meets Littleton, Conifer battles Lewis and Green Mountain tangles with Evergreen.  The last one is probably the best contest as Evergreen (5-1) looks to bounce back from the tough loss to Lutheran (46-2) last week and Green Mountain (3-3) looks to keep up the momentum.  They scored a late 25-21 win over Lewis Palmer as Zach Wallace connected with Donnie Carney for the game winning score in the final minute.  Wallace ended with up 126 yards passing and Dom Sanchez ran for 195.