Home teams have won 15 of the first 16 playoff games in Class 4A this year but that trend could prove difficult to continue this week as the top four seeds are all challenged by high quality opponents.  Survivors from this week keep their title hopes alive and advance to the semifinals next week.
FEATURE PHOTO PROVIDED BY LANCE WENDT
#8 FOUNTAIN FORT CARSON (10-1) AT #1 MONTROSE (11-0)
Neither team was pushed that hard in the second-round last week and each came off a bye week to score a win by at least 37 points.  Montrose blew past Denver South 56-19 and Fountain Fort Carson blanked Golden 41-0.  Both clubs expect a much tighter battle on the Western Slope this Friday.
The Indians defense started strong against the Denver South offense and allowed the Ravens just 97 yards rushing overall.  The offense was also sharp out of the gate as they jumped to a 35-0 lead midway through the second quarter.  Statistics were not published at MaxPreps but the Montrose Press reported that the Indians offense was paced by Ethan Hartman who finished with 267 yards of offense; including 139 yards rushing on just eight attempts.
With that effort, the Indians have outscored 11 opponents 451-150 but they're also battle tested with three of those wins coming by single digits.  Playing at home again should also give them a boost as they're hosting another I-25 area team that may not be used to traveling that far to compete.
Fountain Fort Carson's win over Golden was the Trojans seventh straight win and fourth shutout of the season.  Tai Faavae had nine tackles and Myles McCarty added eight.  Michael Madrid had two sacks and recovered a fumble.  Curtis Jackson also scooped up a fumble and intercepted a pass as the Trojans forced three turnovers in the win.
On offense, the Trojans generated 325 yards on the ground including 220 and a touchdown from leading rusher Dezmen Oliver.  Tavian Tuti added 58 yards and also threw for 158 yards and two additional touchdowns.  Vicente Herrera and Darian Martin each caught one.
PLAYOFF HISTORY: The clubs have met just once in the playoffs with Fountain Fort Carson earning a 28-26 decision in the 2007 opening round.  A Montrose win puts them in the semifinals for the first time since 2018 while Fountain Fort Carson seeks a second straight trip and second visit since 2002.
#5 ERIE (11-0) AT #4 PALMER RIDGE (10-1)
This serves a rematch of the Class 3A state championship game where Palmer Ridge began their dominance in scoring a 46-21 victory.  That win started the Bears on three consecutive title runs in that division and that added a fourth straight championship game appearance and first in Class 4A last Fall.  The Bears lone loss came against Montrose in conference play and the two conference rivals will see a rematch if both are winners this week.
Palmer Ridge though cannot look past an Erie team that rolled to their 11th straight win last week; dominating Fruita Monument 50-26.  The Tigers led 50-14 after three quarters and then took their foot off the gas.  They've outscored opponents 515-150 on the season but enter the quarterfinals not having a game decided by less than 18 points.  It's still unknown to the players or the coaching staff how the group will respond in a game determined in the final minutes.
One thing the coaching staff does know is that they have a very talented quarterback in Blake Barnett.  Offensive numbers from last week have not been posted to MaxPreps but the sophomore averaged 176 yards passing and 69 rushing per game during their 10-0 perfect regular season.  He also combined for 39 touchdowns.
Palmer Ridge has been involved in tight games including last week's 28-27 overtime win against Pueblo West.  The Bears trailed by a touchdown three times in the game but rallied in each to score the victory.  All four touchdowns came on the ground including two from Ayden Snow and one apiece from Connor Cook and Derek Hester.  Hester also finished with 158 yards passing.
On defense, Holden Wright and Layton Wright each recorded 13 tackles while Snow had an interception and Cook a fumble recovery.
PLAYOFF HISTORY: The state championship meeting in 2017 is their only previous playoff meeting.  Erie missed the playoffs in the reduced eight-team brackets and was bounced in the first round in 2019.  They were semifinal clubs in both 2017 and 2018.  Palmer Ridge seeks a fifth consecutive trip to the Final Four.
#7 CHATFIELD (8-3) AT #2 DAKOTA RIDGE (11-0)
After watching the two teams play a great game to close the regular season, Class 4A football fans are not surprised to see the two clubs pair up the playoffs but many might have been hoping the rematch would come much later in the bracket.
Their regular season battle came just three weeks ago with Dakota Ridge edging Chatfield 29-28.  The Eagles trailed almost the entire game but outscored the Chargers 10-0 in the fourth quarter rally with the winning points coming on a field goal in the closing seconds.
Adam Graves ran for two scores and passed for two others in sparking the Dakota Ridge comeback.  Noah Triplett added 116 yards rushing.  Tanner Hoffman and Matthew Orr topped the defensive effort with eight tackles apiece.  That defense though did little to slow down the Chatfield running game as the Chargers ended the game with 357 yards and four touchdowns.  Jake Marschall finished with 165 yards and Mason Lowe added 84 and both reached the end zone twice.
Chatfield's running game was also effective in last week's 31-9 playoff win over Ponderosa.  Marschall ran for 197 yards as the Chargers totaled 304 in the win.  The defense was also sharp in limiting Ponderosa to just 50 yards rushing on 29 attempts.
Dakota Ridge survived the expected high scoring affair with Longmont last week (56-35).  The Eagles ran for 398 yards and threw for 163.  Triplett (297) missed 300 yards by just three while Graves tossed two more touchdown passes.
PLAYOFF HISTORY: The teams of course play often in the regular season but this is their first-ever playoff battle.  Dakota Ridge has won the last four regular season meetings with Chatfield winning the previous six.  The Chargers last earned a semifinal berth in 2016 when they fell to Pine Creek.  They've dropped their last three quarterfinal contests.  A win gets Dakota Ridge into the semifinals for a third straight season.  They fell to Loveland last year (20-15) and Broomfield (17-15) in 2019.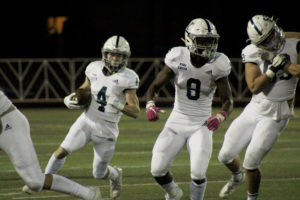 #6 LOVELAND (10-1) AT PINE CREEK (9-2)
There's playoff tradition in abundance in this matchup as one of the two has played in the 4A state championship game every year since 2013.  They've combined for six state titles in that time frame including the last three.
Both have enough talent on both sides of the ball to win this week and reach the state championship game in two weeks to keep the streak alive.  Loveland overpowered Vista Ridge 48-24 and Pine Creek dumped Bear Creek 41-7 in their first playoff games of the season last week.
No mystery on the offensive strategy for Loveland.  Offensive numbers from last week's win are not available but they attempted just 51 passes in ten regular season games so they will again look to control time of possession and limit the offensive chances for Pine Creek.  QB Garrett Harstad ran for 1,100 yards and 16 TDs in the regular season with RB Drew Foley adding another 928 with 13 scores.
The Red Wolves defense is also very solid with plenty of experience returning from last year's title run.  Chief among them is the tandem of Ian Loomis (136) and Dylan Lindgren (108) who have combined for 244 tackles this year.  They also have 27 behind the line of scrimmage.  Overall, the Red Wolves have 64 tackles for loss with 13 turnovers including four interceptions from Cody Lease.
Pine Creek's win over Bear Creek was just their fourth matchup against a 4A school and they're now 4-0 in those contests.  Six other games came against 5A opposition including losses to Legend and Regis who are both in the final eight of the Class 5A bracket.
Zion Hill ran for 169 yards with three touchdown and Josiah Roy provided 76 yards and two scores on the ground in the Bear Creek win.  Roy also threw for 90 yards and three of his seven completions went to Hill.  On the season, Roy has 1,395 yards passing with 862 rushing and a combined 33 scores.  Hill needs just seven yards to reach 1,000 rushing for the season.  He's scored 10 touchdowns.  Five receivers have at least 10 catches overall with Justis Nicholson topping the team with four TD receptions.  Braden Kramer and Alex Nelson each have three.
PLAYOFF HISTORY: Despite all the playoff tradition over the past decade, the Red Wolves and Eagles have met just one in the playoffs.  Loveland beat Pine Creek 26-14 in the 2015 semifinals but then lost the following week to Windsor in the state championship game.  Loveland is the defending state champion and also won the crown in 2018.  Pine Creek has championships in 2019, 2016, 2014 & 2013.