Two programs with a combined four state championships over the past three years collide on Friday to determine the Class 4A state championship.  Palmer Ridge has won the last three state crowns in Class 3A and is trying to become the first team since Valor Christian (2011-12) to win a championship and then move up a class to win another the very next season.  Loveland looks to grab their second Class 4A crown in three years after winning the top trophy in 2018.  Friday marks the first ever playoff meeting between the two clubs.
Loveland's strategy this week may be very similar to what they employed to knock off Dakota Ridge in the semifinals (20-14).  There they faced a top seeded club that scored 76 points in their opening playoff win over Montrose, but the Indians used long drives on offense and a hard-hitting defense to gain the win.  Against Palmer Ridge, the Indians meet an offense scoring nearly 42 points a game with a group that score in bunches.
In last week's win, the Indians ran the ball 49 times for 283 yards and three touchdowns and the defense held Dakota Ridge out of the end zone over the second and third quarters.  Zack Ratowsky, with 181 yards and a touchdown, paced the Loveland offense.  Garrett Harstad and Tyson Williams also reached the end zone and combined for 85 yards on 21 attempts.  Harstad completed four of five passes for 82 yards.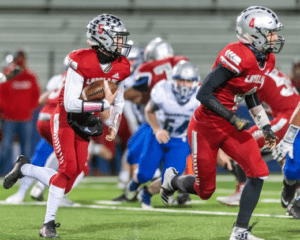 Ratowsky though is the offensive leader.  He averages seven yards per carry with 1,224 yards and 16 touchdowns for the season.  He and Harstad, who has 582 yards on the ground with 10 TD's this season, must have big games for Loveland to get the win.  They must move the chains, eat up clock and keep the Palmer Ridge offense on the sideline.
Ian Loomis topped the defensive group with 17 tackles last week including two behind the line of scrimmage.  Jadyn Tafoya added 10 more.  Those two led the defense on the season with 96 and 69 tackles respectively.  They've also combined for 18 tackles behind the line of scrimmage.  Depth on that side comes from Hudson Voggesser (57 tackles) and Luke Penny (53).
Loveland's defense has also forced 20 turnovers this year including 16 interceptions.  Williams leads the way with four, Loomis and Austin Bierhaus each have three with Voggesser collecting two.  That unit will be challenged on almost every down this week as the Palmer Ridge offense has totaled 576 yards passing in their two playoff wins.  They could also get help from pressure up front as the Indians have nine sacks this season including three from Loomis and two apiece from Voggesser, Penny and Ty Young.
Bears QB Luke McAllister is 29 of 46 for 576 yards and seven scores in playoff victories over Pine Creek (32-7) and Fountain Fort Carson (28-12).  Five of those scores came against Pine Creek and he enters the championship game with a career touchdown to interception ratio of 52 to 9 and needs just 159 yards to reach 45-hundred for his career.
Explosive weapons are found across the board and the depth at receiver limits the amount of double teaming that a defense can do.  Marcellus Reed has been the top target in the playoffs; catching four TDs against Pine Creek and a fifth ast week against Fountain Fort Carson.  He has nine catches for 263 yards in those wins.  Kaden Dudley has also nine catches for 112 yards in the playoffs while Anthony Costanzo has six receptions for 117 yards and a score.  Cameron Jones, who did not play against Pine Creek, returned to the lineup with a key TD catch against Fountain Fort Carson.  On the season Dudley (27), Reed (19), Costanzo (17) and Jones (11) have combined for 74 catches, 1,613 yards and 22 touchdowns.
While Raef Ruel got most of the carries in helping the Bears win three consecutive 3A championships, the ground game is more by committee this year.  Nathanial Robinson, with 396 yards, has the most yardage overall.  He's also scored three times.  Saxon Wright has just 85 yards this year but often gets the ball in short yardage or goal line situations and has responded with four touchdowns.
Wright is also the defensive leader.  He has 57 tackles and played at a high level in last year's championship win over Pueblo South (3A).  The senior has added two fumble recoveries and two blocked kicks as well.  Kelenn O'Connor is next with 55 stops; KJ Smedley has 38 and Costanzo 27.  With five sacks, Cameron Jones provides pressure with Reed and Josh Gerlach picking off two passes.
Palmer Ridge is 3-0 all-time in championship games with the wins coming over the past three years.  This is their second playoff appearance in Class 4A as they also qualified in 2015 and won a first-round game.  The Bears sit at 15-4 in playoff history and have won their last 14 games.  Over that winning streak, the Bears have outscored opponents 608-216.
Loveland has seven state championships in their history and Friday marks their 15th visit to the state finals.  They've won six of their last seven postseason games with an overall record of 53-30.
Kickoff is slated for 6:00pm this Friday night.  Radio coverage in Northern Colorado will be provided by Colorado Preps Affiliate 1310 KFKA and you can watch the game through a live video stream at NFHSNetwork.com.
PALMER RIDGE BEARS (6-0)
Coach:  Tom Pulford
Outscored Opponents:  248-46
Regular season
W:  Golden 42-7
W:  Grand Junction 49-0
W:  Grand Junction Central 55-0
W:  Montrose 42-20
Playoffs
W:  Pine Creek 32-7
W:  Fountain Fort Carson 28-12
State Championship History (3-0)
2019:  Beat Pueblo South 35-13 (3A)
2018:  Beat Pueblo East 47-38 (3A)
2017:  Beat Erie 46-21 (3A)
LOVELAND INDIANS (8-0)
Coach:  Jeff Mauck
Outscored opponents:  297-107
Regular Season
W:  Heritage 49-23
W:  Greeley Central 51-0
W:  Greeley West 58-13
W:  Monarch 14-3
W:  Longmont 50-21
W:  Skyline 27-26 (OT)
Playoffs
W:  Broomfield 28-7
W:  Dakota Ridge 20-14
State Championship History (7-7)
2018:  Beat Skyline 62-14
2015:  Lost to Windsor 35-14
2006:  Lost to Wheat Ridge 31-15
2003:  Beat Fruita Monument 34-13
2000:  Beat Fruita Monument 17-12
1985:  Beat Grand Junction 23-14 (3A)
1983:  Lost to Broomfield 14-7 (3A)
1983:  Beat Coronado 14-12 (3A)
1981:  Lost to Broomfield 22-3 (3A)
1942:  Beat Salida 42-8
1939:  Beat Pueblo Centennial 27-9
1938:  Lost to Pueblo Central 7-6
1936:  Lost to Grand Junction 28-6
1933:  Lost to Salida 26-7
NEXT UP Video Interview with Zack Ratowksy
NEXT UP Video Interview with Alec Falk