Closing out our boys' basketball coverage for December with an update of the games we got a chance to watch a week ago.  Our week began with a close look and review of a serious 2A championship contender in Yuma and wrapped up with a court-side review of a strong title challenger in Class 1A.
FEATURE PHOTO BY OT SPORTSCHECK
That team is Granada as the Bobcats have all the ingredients to win the small school championship in March.  They have a veteran crew returning from last year and have been boosted by a couple of key freshmen that are important to the rotation.  The Bobcats also have experience in the postseason as they played eventual champion Belleview Christian closer than any opponent in a semifinal loss to the Bruins last Spring.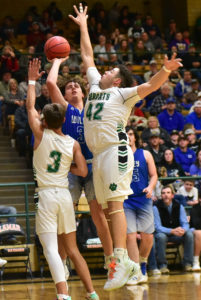 Granada is set up for modern day basketball with a solid post player in John Hainer and shooters in the lineup around him.  Hainer is listed at 6-4 and takes up a ton of space inside.  He can score going either direction but also realizes the importance of kicking the ball back outside for a reset or to look weak side with a pass for an open three from the wing or corner.
Hitting those shots is a combination of Dominick Coleman, Brandon Gonzales, Maddox Coleman and Ivan Yanez.  Maddox Coleman is a freshman who can also get to the basket on the drive and Elijah Rodriguez is another freshman off the bench that can provide minutes and make some shots.  Dominic Coleman, Gonzales and Yanez all played important roles in the Bobcats state semifinal run a year ago and that group wants to the final two steps this year.  They should get the chance as one of the final eight in Greeley after Christmas.
At least three other teams in the Lamar Holiday Tournament could make a strong post-season run.  Granada won the championship by beating a good Wiley club and McClave earned a third-place finish with their late win over 2A Holly.  Springfield placed fifth but the Longhorns have the talent to make a regional tournament push as well.
Let's start with Wiley.  There may not be a bigger team either tall or wide in Class 1A this year.  The Panthers roster includes five players listed at least 6-3 or bigger with a sixth at 6-2.  Cooper Tixier, Westin Langston and Jace Parker have the ability to score on both ends and have enough size to make a difference on the boards.  Connor Wollert runs the point and along with fellow guard Evan Larrick need to make some shots and direct the offense for the Panthers to go far.
The Panthers though look confused on offense in the tournament finals and that caused a lot of standing around in the half court game.  Some of that comes with a new coaching staff headed up by Rodney Yates.  A new system and a new group of kids can lead to confusion in the early going so we expect the Panthers to be a very dangerous team come February.
Think McClave can also be very dangerous during the playoff run.  The Cardinals though are also getting accustomed to playing with one another and despite that, nearly upset Granada in the semifinals before taking out Holly for third place.  The lone senior is Riccardo Cazzaniga and he's one of two foreign exchange students in the starting five.  Those two are getting used to one another and new teammates but also the American basketball game overall.  Once the group figures it all out, the Cardinals have enough talent to make the final eight.
The other foreign exchange student is point guard Edguardo Verdu and he's joined in the lineup by Aiden Martinez, Ray Mungaray and Aydin Gomez.  All bring good talent to the floor as does Connor Forgue.  The 6-3 sophomore is another post player off the bench who can factor in on both ends of the court and hit the game winner against Holly on Saturday.
While both the Panthers and Cardinals have the skill to reach Greeley, just getting out of districts will prove difficult.  They're looped in with Granada, Cheyenne Wells and Cheraw in District 2 and only the top three move on to regionals.  The other three are all currently ranked or have been in the top 10 at some point this season.  It will make for an interesting three-day event in February.
Springfield may actually have an easier trip to the regional tournament.  The Longhorns are in district three and could easily win the top seed in the bracket.  Others there include Aguilar, Kim/Branson, La Veta, Manzanola, Primero, South Baca and Walsh.
The Longhorns roster does not include a senior so they should be vastly improved after Christmas.  They are also working with a new coach in Spencer Swartz although there is familiarity as he's been an assistant to Bob Schaller the past few years.  Youngsters include freshman point guard Colby Batterton and sophomore leaper Cooper Stolebarger.  Junior Kegan McEndee is also an important player.  He hit several outside shots including some threes for a team that needs to improve their outside shooting.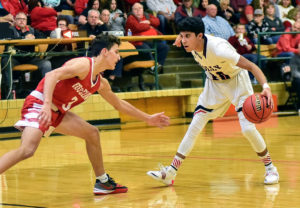 Holly placed fourth at the Lamar Tournament but competes on the 2A level.  Void of size, the Wildcats will rely heavily on three pointers this year and must shoot well to be a factor in the 2A playoff chase.  We still expect them to challenge for the Santa Fe conference championship and easily make the 32-team regional tournament field.  Getting to the state tournament though will rely a bit on seeding and regional tournament matchups.  A team with a lot of size could give them some issues.
Three players will lead the Wildcats this year including seniors Dakota Eaton and Josh Avalos.  Eaton is the leader and coming off an excellent football season where he led the Wildcats to the eight-man Final Four.  Avalos is the younger brother of former Wildcat standout Sigi Avalos and owns many of the same traits but must stay aggressive.  He was heavily involved in the offense in the first half against McClave but was not during the final 16 minutes.
A third key Wildcat is freshman Truman King.  Plays on the outside but with his size at 6-2, he may be asked to do more on the inside especially on the boards.
Also got the chance to take in two games at the Akron Tournament last Thursday.  Both were competitive as Stratton edged Idalia and Akron worked their way past Otis.  The Akron boys are similar to their girls' program in that the team is better than in the recent past but will have trouble improving the league standing because they battle Yuma, Wray, Holyoke, Haxtun and Merino inside the Lower Platte.  They will need to get past one of the first three teams to earn an automatic 2A regional berth or rely on their strong schedule to earn RPI points and get in the playoffs a wildcard.
Sophomore Ryan McCaffrey is the key for Akron.  A very talented player, he can be one of the best players in the Lower Platte and statewide.  He gets help from freshman Jackson Filla and also junior guard Braxton Demers.  Demers battled foul trouble in the game we watched but is crucial to their success as he can handle the ball and get players in the right positions on offense.  Another interesting player for Akron is Xavier Livesay who is a very big body who is still learning the game.  But in spotted minutes, he contributed some offensive production and grabbed key rebounds.
Otis and Idalia could end up battling for the YWKC crown the next two months.  Otis has a very good player on the inside in junior Jack Willeke as he plays well with his back to the basket.  Charlie Kendrick is a freshman point guard who will continue to improve.  Idalia relies quite a bit on sophomore Tarek Glanz.  He has good size but is asked to run the point and score points in the half-court game.  Yahir Enriquez is a solid second option on offense.
Stratton has a big roster and plays quite a few kids.  Maybe the rotation will be limited more down the line or the Eagles will use that depth to wear down opponents.  Cyler Notter is a sophomore and probably the best offensive threat as he knocked down some outside shots.  Daniel Tanner has size underneath and Charlie Clapper, Riley Shean, Charlie Tagtmeyer, Brady Webb, Jose Gallardo, Austin Webb and Clayton Craig all earned minutes against Idalia.
Otis, Stratton and Idalia will all compete in the District 5 tournament in late February.  Genoa Hugo is also in the bracket and it's most likely those four teams will battle for the three available regional slots.  Genoa Hugo earned a nice overtime win over Cheyenne Wells last week so they may be considered the favorite at this point, but of course there is a lot of basketball to be played.
Since this is our last column of 2021, Colorado Preps wants to wish our readers, coaches, athletic directors, players, fans and all high school sports fans Merry Christmas and Happy New Year.  We appreciate the support you have given us over the years and look forward to continuing our coverage in 2022.