Our first girls' basketball notebook of the New Year will present thoughts on the post-season in each class but our report is led by a look at a few teams we saw in person over the past few days.  Colorado Preps took trips to the 1A top five battle between Fleming-Merino last Friday and then had a chance to see top five Sanford from 2A as they easily moved past Mancos in non-league play on Saturday.
Fleming scored the win over Merino 54-37 and the unbeaten Wildcats used big runs at the beginning and end of the game to pick up the victory.  They earned a 17-3 win after the first quarter and held a 13-point advantage at halftime (26-13).  Merino used a strong run over the late third and early fourth quarter to pull within 41-33 but then the Wildcats scored the next 11 points to put the game away.
Maybe the best word to describe Fleming is interchangeable.  Their top four players, Kally Kirkwood, Whitney Chintala, Zoey Vandenbark and Madi Serrato can all play numerous positions on both ends of the floor.  The Wildcats run a lot of four on the perimeter with that group but each can go down low and play with their back to the basket pending on the matchups.  Defensively, the Wildcats utilize many different sets and at times, Kirkwood uses her 6-0 frame on the inside while at other times, is at the point of the press or zone defense.  The same with Vandenbark as she can play the point defensively but often is at the bottom of the Wildcats 1-3-1 zone.
Chintala can score from many others on the floor; knocking down the three or drawing key fouls with moves on the inside.  She understands the game well and gets in good position to put points on the board.  Serrato can boost the Wildcats state championship hopes if she becomes a dependable third scorer.  She had a key stretch against Merino where she scored five straight points in pushing Fleming out to a 49-33 lead after the Rams had made their run.
Merino will beat some teams but will need more consistent play on offense to make the state tournament field.  No one works harder on either end than Taysa Conger and we also expect freshman Brooklyn Sutter to see more minutes as she gives the Rams some ballhandling and scoring ability from the point guard spot.
Sanford shapes up to be very similar to last year.  They're lacking in size but can make up that deficit with ball-handling, shooting and overall fundamentals.  They commit very few turnovers while they have it but also force many with their tremendous on-the-ball pressure defensively.  We think they will again win the 2A Southern Peaks title, host a regional tournament and make a strong run to the final eight.  Once in the final eight, any team will take their chances to win three games in three days.
Their key is Asia Caldon.  The senior gym-rat handles the ball as well as anyone and seems to get the ball where it needs to be at the right time; regardless of in the half-court game or running the fast break.  She's also a strong shooter from the perimeter.
Two other players that may help Sanford down the stretch are Holly McDaneil and Kashley Canty.  Both are off the bench and McDaniel is about the only sophomore that gets varsity minutes.  Canty provides some size for a team that needs some inside scoring on offense and rebounding on defense.
Class 1A postseason outlook
Following a COVID-induced 24-team state tournament bracket that was played out start to finish, teams in the smallest school division return to a district and regional format this year and the layout will change which teams have the best chance of reaching the Great 8.
Dove Creek and Flatirons Academy seem to be solid bets to qualify from the West Regional.  Those two districts each send two qualifiers to square off in one game regionals where the winner advances to state.  Dove Creek scored a huge win over Ignacio and now stands to win the San Juan title again.  The Bulldogs should also land their district title and then beat the runner-up from the 5280 division.  Flatirons Academy is the defending state champion and is again favored to land the 5280 district title and that would pair them with the runner-up of the San Juan/West Slope district.  They would be the overwhelming favorite to win such a contest.
Quite a few teams are similar in strategy and talent will battle for the three state tournament berths from the Southeast regional.  McClave seems to bit ahead of the others from that region and the Cardinals seem to be a solid choice to advance.  They won the Lamar Holiday Tournament before Christmas and then scored quality wins over Cheraw and 2A Wiggins to open the second half last week.
Up to seven teams could battle for the remaining two spots.  Sangre De Cristo should again land the Southern Peaks league and district title so they would likely receive a top three seed in regionals.  That might be good enough to get them through as they would need just one win to advance.  Others that will contend are Cheyenne Wells, Kit Carson, Kim/Branson, Wiley, Cheraw and Springfield.  Cheyenne Wells, Kit Carson, Wiley and Cheraw are in the same district as McClave so only two will have a chance to reach regionals.
In the Northeast, Briggsdale and Fleming are both unbeaten and sit 1-2 in the statewide rankings.  They should advance from districts and will be favored to grab two of the three available state tournament berths from the Northeast regional.  Merino and Haxtun are in the same district as those two so only one will advance from districts.  They meet on February 11th and that outcome could give us a test of which team may advance.
That survivor will join the likes of Stratton, Lone Star, Idalia, Simla and Kiowa in battling for the final regional berth.  Seeding will be very important as teams will try to get placement away from Briggsdale and Fleming in a three-team pod.
Briggsdale right now is our pick to land the state title.  They have good size at all five spots and can play up to eight players in key situations.  They can handle some foul trouble maybe a bit better than others at the top.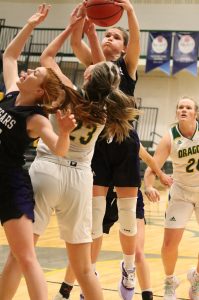 Class 2A sees 12-teams battling for eight state tournament bids
In our mind, the 2A division is very top heavy with maybe 8-11 teams in the chase for a state tournament bid.  This division will also return to district and regional formatting so it's difficult make predictions because seeding and regional placement is not known until late February.  But we'll give it a shot.
In looking at district brackets, our picks as champions right now are Sanford, Sedgwick County, Cedaredge, Limon, Soroco, Rye, Heritage Christian and Peyton.  But it's possible that only five or six of those teams will advance to the state tournament.  That's because the Lower Platte league is again very deep with four teams currently in the top 10.  Sedgwick County could easily be replaced by Holyoke or Wray as state champions but all three teams along with Yuma are strong state tournament contenders despite having to play on the road in the regional round.  Ignacio is another team that could be a tough out in the regionals and they could also replace Cedaredge as the District 3 champion.
Right now, we like Sanford, Sedgwick County, Holyoke, Wray, Limon and Rye as state tournament qualifiers.  That leaves two open spots with Cedaredge and Soroco strong contenders along with Heritage Christian and Yuma.  Peyton may be a year away from returning to the state tournament plus they need key players to stay healthy down the stretch.  Ignacio could also be an odd team but regional placement could change their postseason fortune.
For a state champion, we can only narrow it down to a team from the Lower Platte with Rye as the next selection.  Teams from the Northeast play a strong schedule in conference play and often pair up with league members a second time as well.  That schedule gets them ready for any playoff situation that may come up.  Rye has experience in the Adamson twins including Sophie who joined the 1,000 point club earlier last week.  Sydney could also get there before the regular season comes to a close.
Several contenders chasing defending 3A state champion Platte Valley
Platte Valley is the defending state champion and has spent the entire season ranked number one in Class 3A this year.   It makes sense to have the Broncos atop the poll and state championship pick as they return their top four players from last year's ballclub.  They're currently unbeaten but may not end the regular season that way as they have difficult league tests with University and Eaton in the rugged Patriot.  Both the Bulldogs and Reds are in the top five this week and each also has state championship aspirations.
Platte Valley meets Eaton on February 8th and University on the 15th.  Rematches could take place in the district tournament later in the month.  Eaton and University, by the way, face off on February 1st.
Another excellent conference race is shaping up out west as Grand Valley, Delta and Coal Ridge are all in the top 10 this week.  Delta has controlled the conference of late and they're coming off solid wins over Centauri and Alamosa last week.  They're our pick this year as they're led by likely league player of the year Erika Kuta.   Grand Valley and Coal Ridge are both 8-2 on the season and each is unbeaten against 3A opponents.  Both suffered narrow losses to 4A ranked Grand Junction Central while the Cardinals also fell to defending 1A state champion Flatirons Academy.  Coal Ridge's second loss occurred to 5A Vista Peak.
Schedule wise, Coal Ridge meets Delta on February 1st and Grand Valley on the 15th.  Delta and Grand Valley get together in between on February 11th.
The Intermountain chase also features three contenders and right now it's impossible to pick a winner.  Centauri, Pagosa Springs and Alamosa are those three clubs and it's doubtful the winner gets through unbeaten.
Vanguard (Tri Peaks), Academy (Frontier) and Lutheran (Metro) are favored to land league championships as well and should advance through districts.  Vanguard could get pushed by St Mary's in the Tri Peaks as the Pirates are coming off a solid 40-38 win over Colorado Springs Christian last week.  The Pirates face Lamar this Tuesday in a tough one and have a nice non-league test at Centauri on the 15th.  Their date with Vanguard is set for February 10th.
We still like Platte Valley as the state championship pick.  Eaton and University should also get to the final eight along with Vanguard and Lutheran.  The remaining three spots could go to many teams but we like Delta to nab one of them.  Then seeding and regional matchups will determine the final two.
Could easily see a repeat matchup in Class 4A
Mullen rolled past Windsor in the state championship game last season and a rematch is possible this March.  The Mustangs and Wizards have been ranked 1-2 for the entire season and based on results and strength of schedule, both may be a notch above everyone else in the division at this point of the season.  Right now, we expect them to pair up in a state finals rematch this year.
Mullen is coming off a mixed week.  They scored an impressive win over 5A #2 Grandview but then fell to #9 Cherry Creek two days later.  They meet both the Wolves and Bruins again in conference play and also have a date with 5A #1 Valor Christian on the schedule.  Those types of regular season matchups translate well to the postseason and should give the Mustangs an excellent chance of winning a second straight title.
Windsor is 10-0 with six wins against 5A programs and three more last week in Wyoming.  Their schedule bumps up a bit more with conference games against Holy Family and Mead in back-to-back games on January 25th and 28th.  Those three could meet again as part of the late season league tournament.
Mead and Holy Family join Green Mountain in the next group.  All three have the talent to reach the Final Four but it's a big ask for them to unseat either Mullen and Windsor in a possible state semifinal.  Mead and Holy Family collide on February 4th and as mentioned, both challenge Windsor later this month.
Green Mountain's toughest remaining challenge could be the two meetings with D'Evelyn on January 19th and February 11th.  We give the edge to Green Mountain based on their strong season last year (17-1) which ended with a semifinal loss to Windsor.
D'Evelyn is in the next grouping with George Washington and Canon City.  All three should be top 16 seeds and earn first round tournament byes.  A run to the Great 8 is possible for all three teams but going farther is unlikely.
Last week could change things in Class 5A
We thought we had some things figured out in the big school ranks and then last week happened.  #2 Grandview suffered a tough league loss to Mullen but then bounced back to upset #1 Valor Christian.  Cherry Creek also split two games; losing to Arapahoe but then returning the win column two days later against Mullen.
Another game that will factor into the postseason picture is up on Wednesday between Valor Christian and Regis.  Valor Christian also meets Mullen this week so the Eagles face two tough opponents after the loss to Grandview last week.
Valor is the defending state champion and needs those types of games to further prep for the playoff run.  Even though they play in the same conference with top ten's Ralston Valley and Columbine, the Eagles will be favored to win the league title and earn a very high playoff seed.
An interesting team may be Monarch.  They're unbeaten and received six first-place votes from coaches this week.  They have a win over ThunderRidge and could get tested with Ralston Valley on Tuesday.  They also have games with Columbine and Fort Collins this month.  If they get by all three, look for the Coyotes to be unbeaten at the end of the regular season.
Highlands Ranch always factors into the state championship and Arapahoe could join the list of title contenders.  The Warriors have that win over Cherry Creek and have two upcoming dates with Grandview and Mullen inside the rugged Centennial.
We still like Valor Christian and Grandview to play in the state championship game.  The Eagles won a state title last year without standout Reagan Beers.  She has returned from injury and is averaging 20 points and 14 rebounds through ten games.  Grandview features the state's top recruit in Lauren Betts.  She had 10 points and 12 rebounds in last week's matchup and win over Valor Christian.